Flavor Inspirations:
AM Flavors on PM Menus
May 04, 2017
I LOVE Breakfast! It is, undoubtedly, my favorite meal of the day for a variety of reasons. The biggest reason, of course, is the fact that I'm a foodie. Therefore, there is NO better way than to start my day with GOOD EATS!
Breakfast has come a long way in recent years from a creative standpoint. Sure, bacon and eggs or pancakes and French toast are still all-time staples, but chefs everywhere are taking this meal period to a whole new level, while cashing in at the same time.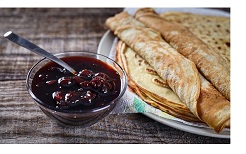 As stated, I love breakfast. I can't think of many that don't. The difference is that not everybody likes to eat it during the morning hours. The biggest trend out there is that breakfast all day, as emphasized by McDonald's, has a huge appeal in the dining public. Taken yet a step further, classic breakfast offerings have morphed dramatically and are now open to almost anything that tastes and sounds good. Flavors that many view as traditionally served at dinner are cropping up in the form of breakfast and dinner all day.
One of the most common examples is the popularity of Chicken and Waffles. I have seen this dish on more and more menus in recent years with a variety of twists like smothering them in everything from Maple Glaze to Stout Gravy.
One of my favorites of late was a twist on the classic shrimp and grits. It was at, of all places, an airport dining venue which surprised me. The dish consisted of three Jumbo Shrimp smothered in a Charred Tomato Jalapeño Red Eye Gravy and was served over a pile of Cheddar Steal Cut Oatmeal. Don't tell my wife as I am on my perpetual diet, but it was so uniquely delicious that I had three portions :)
Another great breakfast I enjoyed of late was at a little breakfast nook in Costa Mesa, CA called Old Vine Café. This little oasis had one of those menus that begged you to want to taste the right and left side of the menu in its entirety. Albeit everything was fantastic, the two that rose to the top for me were the Slow Roasted Goat Shoulder Omelets with Pepper Jack Cheese and Green Onions, and the Poached Eggs with Braised Rabbit smothered in a Passila and Cashew Mole. Now if that's not a great collaboration of morning and evening flavors, I don't know what is!
At the end of the day, Custom Culinary® has a full line of branded sauces and bases to help you achieve this marriage of day parts and flavors. Whether it's our vestal Gold Label Demi-Glace or Beurre Blanc or any of our food bases ranging from Lobster to Bacon, we can help you bring in the bacon offering in AM Flavors on PM menus.
Until next time,
See you in the kitchen
Chef Michael

Michael Smith, CEC, AAC
Corporate Executive Chef, Segment Sales
Custom Culinary, Inc.