Flavor Inspirations:
Rediscovering the Condiments
Aug 23, 2016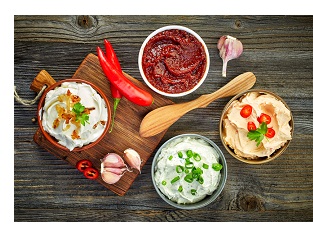 It's not just relish, ketchup, or mustard anymore. Condiments have expanded into many new flavors: bacon onion marmalade, tomato marmalade, green tomato jam, harissa, jalapeno relish and bourbon just to mention a few.
Chefs have always relied on the standard condiments like BBQ, relish, salsa, and 1000 island to enhance menu items and add to the check average, but these condiments are being dressed up with new flavors and textures. More than ever, chefs and operators are differentiating their menu offerings through the quality, variety, and uniqueness of their condiments.
This trend will continue to gain traction over the next several years within Casual Dining, FSR and QSR. We should start seeing unique flavor notes such as Korean Gochujang, Ssamjuang, Harissa and Aji Armirillo. These segments are beginning to develop vast new varieties of condiments featuring aioli, dips, spreads, marmalades, jams, craft burger toppings—this aligns perfectly with the trend offering guests more choices and the ability to customize.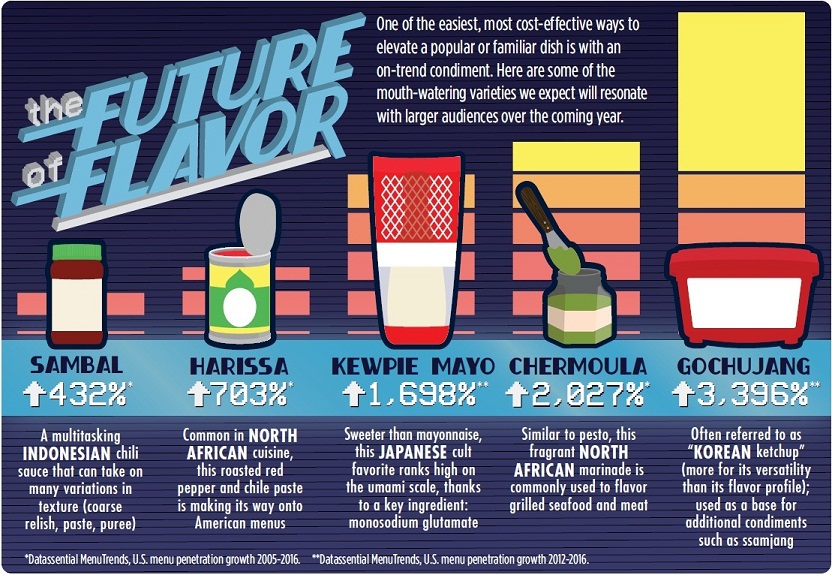 What can rediscovering condiments do for your operation? Adding unique signature condiment flavors to your current menu that differentiate you from your competitors can increase variety, check averages, profits, creative outlet for chefs, and opportunities for staff to highlight your local signature flavor. Whether it's your restaurants, student dining, hospital patient menu or hotel, guests are in search of the new local flavor, chef crafted steak/ burger topping, chutney topped seafood or barrel aged bourbon glazed pork belly—for example.
Recipe Concepts:
Pan Seared Ribeye Steak
Black pepper seared ribeye steak topped with onion bacon marmalade, served with fire roasted root vegetables, horseradish infused mashed potatoes, demi- glace on the side
Featuring Custom Culinary® Bacon Onion Marmalade & Demi Glace
Harissa Roasted Chicken with Chickpeas
Tangy yogurt meets bold harissa, chicken thighs marinated in harissa, yogurt, lemon juice then oven roasted on a bed of onions, chickpeas and carrots, garnished with cilantro
Featuring Custom Culinary® Harissa Sauce
Crispy Spicy Pork with Ssamjang
Slow cooked pork belly marinated in Wasabi Ginger Ponzu, mirin, sesame oil, garlic, green onions and glazed with Ssamjang sauce and served with kimchee
Featuring Custom Culinary® Wasabi Ginger Ponzu
Industry examples:
Slater's 50/50 - CA
Sriracha Burger
Sriracha spiced 50/50 patty, honey Sriracha bacon, pepper jack, charred yellow onion, Sriracha sautéed mushrooms, Sriracha coleslaw, Sriracha mayo, Sriracha, brioche
Twin Peaks - TX
Bacon Jam Sliders
Grilled mini burgers/smoked gouda/bacon jam/ roasted garlic mustard/pickles/potato bun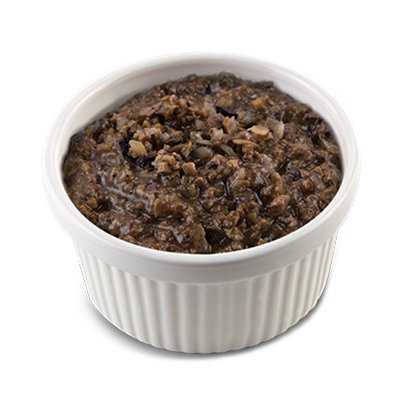 These products can stand alone as flavor infusions, or to embellish recipes. Sriracha can be added to soups, sauces, dips or flat breads. Bacon Onion Marmalade can be used to embellish braised short ribs, pot roast, or a great addition to slow roasted pork belly. My favorite is using Harissa sauce to build flavor in soups, casseroles, aioli, and compound butter (to top on my flame grilled steaks, shrimp and halibut).

SPOTLIGHT
Harness the power of umami to create menu items that are savory, craveable and rich in complex flavor. Commonly referred to as the fifth taste, umami describes the mouthwatering "meaty" quality of such ingredients as aged cheeses, roasted tomatoes and mushrooms, miso, soy and fish sauce. The flavors we perceive as umami indicate the presence of glutamates (amino acids) and ribonucleotides in that particular ingredient. While low levels of these compounds occur naturally in many raw foods, cooking techniques that break down proteins and glutamic acid intensify the effect of umami. And because umami counterbalances saltiness, operators can incorporate umami-packed ingredients as a way to create healthy, delicious dishes that are lower in sodium and calories.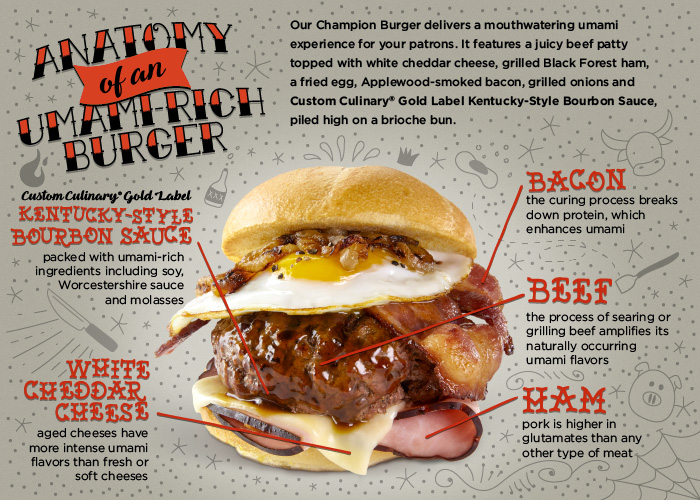 Sun-dried tomatoes. Roasted mushrooms. Bacon and onion jam. These are just some of the ingredients that bring the "wow" factor of umami to dishes across your menu. Get inspired with our on-trend recipes!
  RECIPES featuring Custom Culinary®

 

branded products
Cheese Tortellini with Prosciutto Alfredo Pesto
Bold flavors shine in this creamy pasta dish, bringing an unexpected element of sun-dried tomato pesto to the forefront. View recipe

Bacon, Onion and Fig Croque-monsieur
This take on the classic French sandwich showcases our versatile Gold Label Bacon Onion Marmalade. View recipe

Garlic Grana Padano Chicken Wings
Put an elegant spin on the game-day staple with these seasoned grilled chicken wings. View recipe

Pulled Pork and Bacon Waffles with Wild Mushroom Red Eye Gravy
Capitalize on the savory waffle trend with this unique breakfast or brunch dish. View recipe
  MENU INSPIRATION featuring Custom Culinary®

 

proprietary products
Roasted Gochujang Wings
Double-fried chicken wings are dressed in savory, spicy Custom Culinary® Gochujang and Yellow Miso Sauce and topped with fried sliced garlic and green onion. Served with additional gochujang-miso sauce for dipping.

Pasta Puttanesca
Al dente spaghetti tossed in a rich Custom Culinary® Tomato and Kalamata Olive Jam, finished with freshly ground black pepper and grated Parmesan.

Savory Porchetta Sandwich
Pork belly rubbed in Custom Culinary® Black Garlic and Balsamic Vinegar Glaze and herbs, then rolled, roasted and thickly sliced, served on toasted ciabatta with shaved ricotta salata, sautéed broccolini and a cherry mostarda.

Pork Bolognese Flatbread
Herb-brined pork shoulder, braised in Alfredo sauce, then pulled and piled on crispy flatbread with fresh fennel, roasted grapes, chopped Italian parsley. Finished with a Custom Culinary® Black Truffle and Honey drizzle.
---
CUSTOM CULINARY® FEATURED PRODUCTS
 From savory bases to completely customized glazes and sauces, we offer a wide range of products  that bring complex umami flavors to your menu items with ease. 
BRANDED PRODUCTS

PROPRIETARY PRODUCTS

Black Garlic and Balsamic Vinegar Glaze

Kalamata Olive and Tomato Jam

Gochujang and Yellow Miso Sauce

Black Truffle and Honey Spread

Sweet Corn and Parmesan Spoonbread 

*Products are customized; please contact your Custom Culinary® representative for more information. 
---

AUTHENTIC VOICE
In his latest blog post, Richard Reilly, CEC, AAC gives a rundown of the most  umami-packed ingredients, along with his favorite Custom Culinary® products that can help you capitalize on the trend. Read more
---
| | |
| --- | --- |
| | FlavorIQ® from Custom Culinary® is a revolutionary approach to product development. Our four-step process delivers fast, intelligent menu innovations to meet your needs. Click here to learn more about Custom Culinary® and FlavorIQ®. |