Flavor Inspirations:
Bowl Concepts, More than a Fad
Sep 19, 2016
Well, might I say that there is a "bowl" opportunity for most all ethnic cuisines, and most all dining segments, to include food trucks, carts, noodle shops, and fast casual through fine dining! We see colleges and universities creating successful broth and bowl stations for their student population. The healthy halo influence, as well as variety of bowls offered, has proven to be a great combination. The B&I corporate segment is also expanding this offering.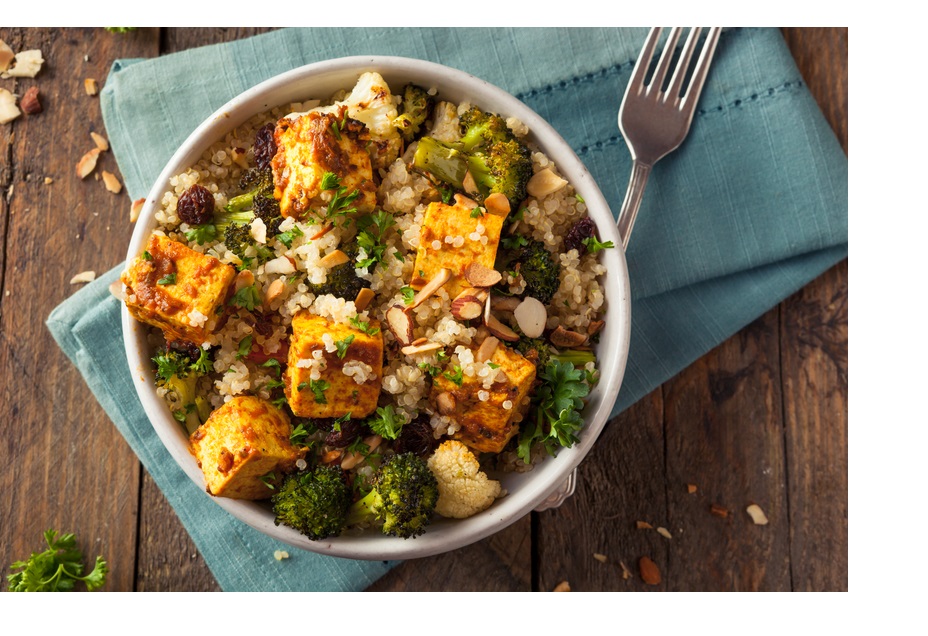 Historically, American bowls were relegated to soup, salad, cereal and pasta dishes. With the ease of handling, the "bowl" offers operationally friendly dishes to build easy-to-eat entrées for lunch and dinner offerings: warm aromatic broths, dressings or light sauces and colorful crisp vegetables, noodles, rice or grains. Healthy animal protein offerings are more the garnish than main event. Bowls offer the ability to create carb free dishes if desired, and eliminate the need for bread as the carrier. Patrons enjoy the portability of the dish, as well as the ability to offer customization.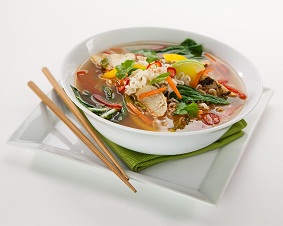 Breakfast has also become a popular dining day part for the bowl experience, with the ability to menu fluffy scrambled, poached or fried eggs teamed with crisp vegetables, bacon, sausages, smoked salmon with the textures of rice, noodles, crispy tortilla chips, toasted croutons and so much more. With our busy lifestyles in this 21st century, the convenience of bowl dishes continues to grow and flourish, with no end in sight for this healthy trend.
Rice and noodle bowls have graced the Asian landscape for generations, offering healthy and economical "complete meals in a bowl", easy to prepare and consume in tight spaces and especially in world regions limited in animal proteins. Fish and shellfish were not often the main protein staple in the development of these tasty bowl offerings over time.
As chefs at Custom Culinary®, we work closely with chains of all sizes, college and universities, healthcare, and the US military to provide flavoring systems to create and enhance bowls of choice. From hearty and healthy stocks and broths created from our premium bases, we also use flavor concentrates to enhance those broths, dressings and sauces. Lastly, our Custom Culinary® Ready-To-Use sauces provide the ability for quick and easy finishing sauces for Asian, Latin, Mediterranean-inspired bowls.
Featured Recipe:

Click here for our Custom Culinary® Gold Label Thai-Style Red Curry Sauce!

SPOTLIGHT

Asian noodle bowls combine elements of rustic simplicity with complex, rich flavors—making this culinary category one of the most exciting to hit American menus in recent years. Rooted in traditional street fare, such dishes as Vietnamese pho, Malaysian laksa and Japanese ramen are considered essential comfort food by millions. And as American patrons become more familiar with these dishes, the nuances of technique and flavor from various cities and regions can add excitement to your menu. Take ramen, for example. The miso ramen of Sapporo, Japan is traditionally topped with sweet corn, butter, bean sprouts, pork and garlic; in Fukuoka, you'll find thin noodles, crushed garlic, pickled ginger, sesame and mustard greens in a piping hot bowl of pork bone tonkotsu broth. Whether you choose to take on an authentic recipe or simply use a classic dish as inspiration for a brand-new build, the key to a memorable noodle bowl is ingredient quality. Aromatic broths, fresh herbs and vegetables, well-seasoned proteins and toothsome noodles deliver the textures, colors and tastes that come together in a feast for the senses.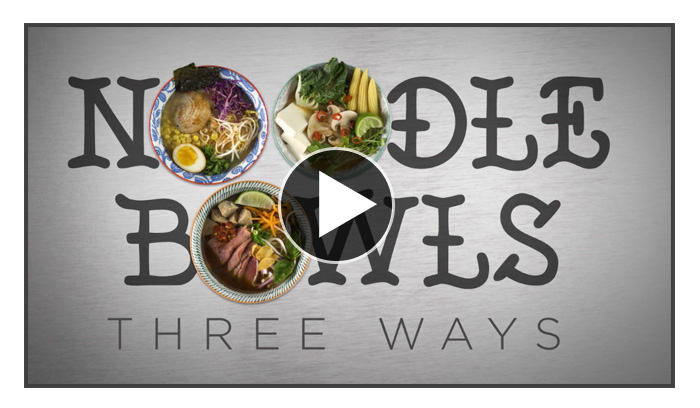 Take your guests on a culinary tour of Asia with a trio of delicious noodle bowl recipes!
---
Whether you're striving for authenticity or looking to put your own spin on a fusion dish, noodle bowls present a world of culinary possibility. Take a look at our latest menu ideas and recipes.
  RECIPES featuring Custom Culinary®  branded products
Vietnamese-Style Pho Broth Bowl

Passport Global Flavors™ by Custom Culinary® Beef Pho Broth delivers rich taste and aroma to this traditional noodle soup. View recipe

 

Sriracha Lime Ramen Bowl

Put a spicy, tangy twist on ramen with the addition of our Master's Touch® Sriracha Lime Flavor Concentrate. View recipe

 

Japanese Soba Noodle Bowl

Gold Label Wasabi Ginger Ponzu Sauce brings just enough heat to stir-fried vegetables, chicken and buckwheat noodles in this tasty dish. View recipe

 

Tom Yum Veggie Noodle Soup

The perfect option for vegetarian guests, featuring Passport Global Flavors™ by Custom Culinary® Thai Style Vegetable Broth. View recipe

 

Traditional Tonkotsu Ramen

Passport Global Flavors™ by Custom Culinary® Tonkotsu Ramen Pork Broth serves as the authentic foundation to this on-trend soup. View recipe

 
  MENU INSPIRATION featuring Custom Culinary®

 

proprietary products
Bibim Naengmyeon

This dish features a savory chilled broth made from Custom Culinary® Korean Soybean Soup Concentrate, loaded with sweet potato noodles, chili paste, thinly sliced brisket, button mushrooms, pickled radish and spring onion.

 

Chimichurri Tsukemen Ramen

Chewy ramen noodles are topped with a tea egg, green onion, shaved beef and Custom Culinary® Green Onion Sesame Chimichurri, served alongside a bowl of shoyu ramen broth for dipping.

 

Umami Noodle Soup

Complex flavors come alive in a broth made with Custom Culinary® Roasted Garlic Black Bean Sauce, layered with chili noodles, scallions, radishes, mushrooms and seared pork belly, topped with fried garlic and chili strands.

 

Coconut Tamarind Laksa

Thick rice noodles are served in a fiery curry broth made with Custom Culinary® Coconut and Tamarind Sambal, topped with shrimp, bamboo shoots, scallions, red onion, cilantro and lemongrass.
---
CUSTOM CULINARY® FEATURED PRODUCTS
Our unique products help you create distinctive, richly flavored soup broths and noodle dishes without the time or labor required for scratch cooking.  
BRANDED PRODUCTS

PROPRIETARY PRODUCTS

Korean Soybean Soup Concentrate

Green Onion Sesame Chimichurri

Roasted Garlic Black Bean Sauce

Thai Basil Chili Chutney

Coconut and Tamarind Sambal

*Products are customized; please contact your Custom Culinary® representative for more information. 
---
| | | | |
| --- | --- | --- | --- |
| | If you haven't already, be sure to download our latest white paper: "6 Steps for Insight-Driven Menu Innovation". Download here. | | Learn how to set up a profitable made-to-order noodle bar in your operation with our "Raising the Bar" guide. Download the PDF here. |

---
AUTHENTIC VOICE

Jim Harvey dives into the global evolution of bowl meals with a closer look at the noodle, rice and broth bowls hitting today's menus. Read the blog post>> 

 

 
---
| | |
| --- | --- |
| | FlavorIQ® from Custom Culinary® is a revolutionary approach to product development. Our four-step process delivers fast, intelligent menu innovations to meet your needs. Click here to learn more about Custom Culinary® and FlavorIQ®. |