Eating Healthier:
World Vegan Month
Nov 28, 2017
Confession: I have a weakness for Starbucks holiday beverages. Today on the way to work, knowing I was going to write a post about World Vegan Month (November), I decided to try their new vegan-friendly Toffee Almond Hot Cocoa. Consequently, when I got to my desk I was inspired to write this post.
Thanks to Google, I learned a few new things about a vegan diet. My key learnings: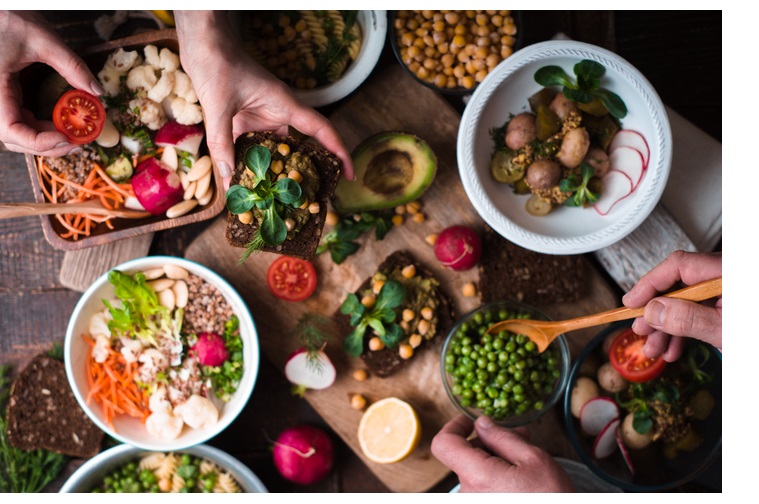 1. It is a myth that a vegan diet is not as healthy as a diet that includes meat and/or diary. A balanced vegan diet produces the essential amino acids we need (comparable to eating meat) every time legumes (e.g., beans, lentils, etc.) are combined with grains like wheat or rice.
2. There are plant-based foods rich in omega-3 (e.g., leafy greens, cauliflower, flaxseed, etc.), a type of fat that helps lower the risk of heart disease.  Most of these plants also contain nutrients like B12, iron, etc., that are beneficial to our health.
3. Not all vegan cuisine is boring. Actually, some items can be very decadent like chocolate brownies made with coconut butter topped with aquafaba (whipped chickpea juice).
If you are an operator searching for some innovative recipes to menu for your vegan guests, I recommend you start with our Gold Label Mirepoix Base, a key ingredient in our chefs' Autumn Roasted Squash Soup or Apple Mango Salsa, an interesting side dish to serve along with a bowl of our Apple & Fig Couscous.
World Vegan Month is coming to a close this week, but vegan cuisine is gaining popularity as more consumers are beginning to follow a plant-based diet. We suggest you serve vegan cuisine on a regular basis. Do you have any vegan recipes you would like to share with our culinary team? More importantly: Be True to the Food®.

Joe Beitzel
Director of Channel Marketing
Custom Culinary, Inc.