Flavor Inspirations:
SAVOR THE MEDITERRANEAN
Jul 09, 2018
I'm looking at the next culinary trend of 2018, and hints of the Mediterranean are everywhere. Mediterranean cuisine encompasses a wide range of styles, united by common ingredients and proximity to the coast: French, Italian, Spanish, Algerian, Moroccan, Egyptian, Turkish, Greek…and the list goes on. The region's culinary building blocks of olives, wheat and grapes complement such bold and distinctive ingredients as harissa, a pepper sauce from Tunisia, a Moroccan spice blend called ras el hanout, preserved lemons, roast lamb and anchovies. American menus will start to incorporate these unique flavors, and take us boldly into the Mediterranean.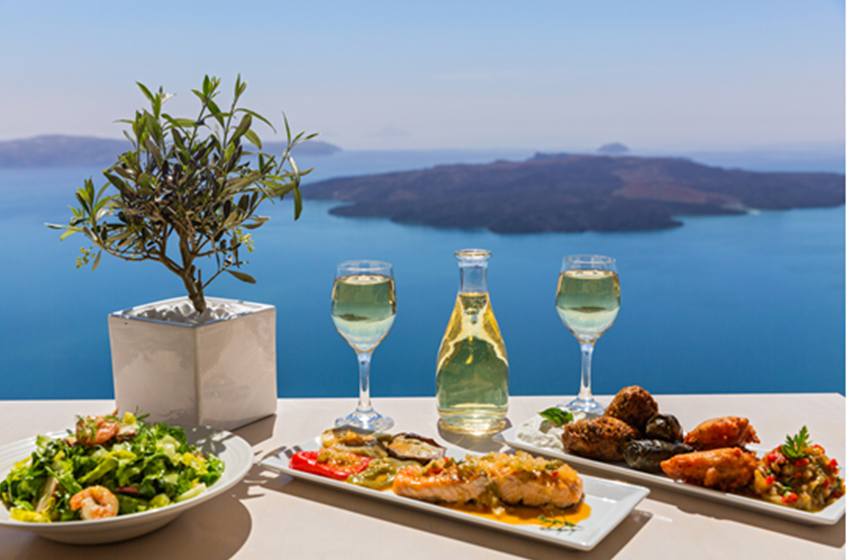 Expect to see Mediterranean flavors on menus this Summer, as chefs use ingredients from this sunny climate to create healthy and flavorful dishes. Look for really good olive oil, artichokes, eggplant cucumbers and tomatoes prepared in a wide variety of cooking techniques – roasted, grilled, sautéed, and even raw in salads.
On a recent trip to Nashville, I got to enjoy a great meal at Butcher and Bee – a casual restaurant offering local ingredients with a bit of Mediterranean flavors. Various dishes like spicy Turkish Hummus, a whipped Feta spread, and Shakshuka are among the offerings, as well as Green Eggs and Lamb (braised lamb with avocado hollandaise).
The healthy aspects and satisfying flavors of Mediterranean cuisine make it widely sought after in every style of foodservice – from fast casual, to fine dining; from campus cafes, to healthcare. Smaller lean animals and seafood are the prevalent proteins. Smaller portions are common, and the use of fresh herbs, spices, garlic and acidic olive oil allow the chef to add flavor while using less salt. We've heard about the Mediterranean Diet Plan for years. It's really based on all of these concepts.
We at Custom Culinary® are proud to offer several products that can be used as you incorporate some Mediterranean flair onto your menu. Products like our Gold Label Sundried Tomato Pesto and Gold Label Harissa are perfect ready-to-use products. Our Master's Touch® Roasted Garlic Flavor Concentrate, Gold Label Savory Roasted Chicken Base and Gold Label Shrimp Base are some of my favorite ingredients to make the Mediterranean flavors come alive.
One of my favorite sandwich recipes is featured on our web site. For a casual Summertime lunch or light dinner, try the Mediterranean Style Sun-dried Tomato Pesto Panini.
For a Mediterranean twist on seafood bisque, I like the Roasted Garlic Style Shrimp Bisque.
I like to garnish it with a little goat cheese and a touch of extra virgin olive oil.
I know that you will enjoy cooking some great Mediterranean-inspired dishes, as much as your customers will enjoy eating them!

Mike Speranza, CEC
Corporate Executive Chef, East Region
Custom Culinary, Inc.