Flavor Inspirations:
2018: A Year Primed for Big Flavor
Jan 03, 2018
At the beginning of every year, we usher in a new set of predictions and file away those of the past. We look forward to the flavors that we'll savor, the new twists on the old and the next "it" cuisine. We scour the articles hitting our inboxes and sample the latest crazy fads. Hey, we're food people. It's what we do. But as we look ahead, we want to remember that the newest food trends and flavor fads do not represent a new way of eating. Instead, they offer inspiration and a building block for the next wave of flavors and ingredients that consumers will soon seek.
Forty-five percent of consumers say they crave bold flavors, according to a recent study by Technomic. And the number continues to rise, with younger consumers saying they are more interested in trying new flavors today than they were a year ago. Even better, 2018 trends point to a deeper exploration of flavor-rich ingredients, cuisines and spices. We have the opportunity to deliver with authentic flavors, bold sauces and inventive carriers. And luckily, consumers are asking us to do just that on the menu. The market stands ready for a great year of flavor and we'll be watching with anticipation as operators creatively explore old favorites and introduce us to the new must-eats of the year.
Click below to check out the teaser video for our 2018 Top 10 Culinary Trends!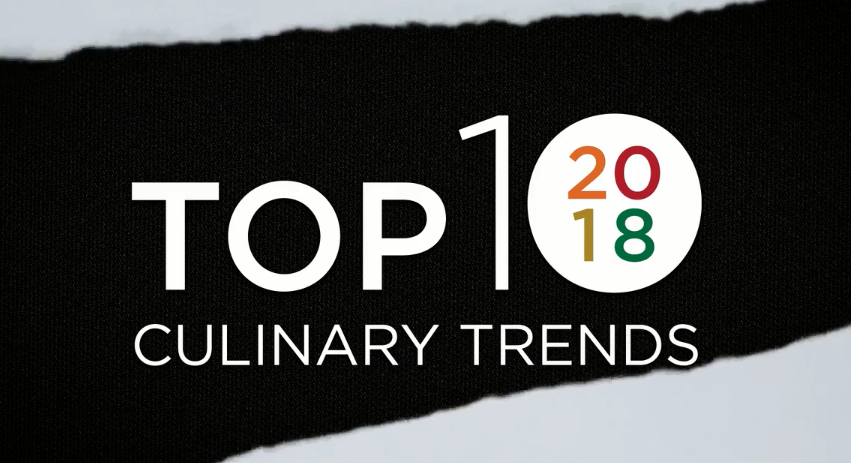 Black Garlic is one to watch this year, according to Datassential. Garlic, already a familiar favorite of consumers, offers a gateway to this sweet, umami-rich variety that is starting to appear more often on U.S. menus. Already being combined into ketchup, butter, dressings, even smoothies, black garlic offers an unexpected twist. On menus, it offers an easy-to-try appeal. Ink.Well in Los Angeles offers a Cauliflower Shawarma featuring Black Garlic, The Butternut Tree in Alberta offers an Organic Squash appetizer highlighting Black Garlic and Blue Apron offered a Shiitake and Black Garlic Ramen on a December menu. As more consumers are introduced to this ingredient, the growth is sure to continue.  
Labneh, another flavor to watch according to Datassential, meets the Mediterranean trend head-on as a rich, creamy, strained yogurt ready to offer a versatile role on menus. You can find it at Aldine Restaurant in Philadelphia where they pair Labneh with pickled golden raisins, mustard seed and carrots. Woods Hill Table in Concord, MA, smokes their labneh before topping with Spaghetti squash and shishito peppers. And Bouquet in Covington, KY, features Labneh on their December tasting menu alongside fried chickpeas, za'atar, and candied citrus.
Many other ingredients and menu items stand poised for growth this year. We've placed our bets on several and will be sharing those throughout the year, along with menu ideas from our culinary team. Be sure to check in with us as we release more on each prediction. It'll be a great year in food and we're excited to dig in.


Bo Chhay
Manager, Insight & Communication
Custom Culinary, Inc.