Flavor Inspirations:
Umami Completes the Plate
Feb 02, 2018
From fast food to fine dining, umami has settled comfortably onto the menu. While only 28% of consumers claim to know it, according to Datassential, we would bet that 100% would miss the flavor profile if it wasn't already part of their favorite meals. Describing it can be difficult. After all, how do you provide the right textbook description for a flavor that is often summed up with words like subtle, savory, rich and delicious?
Currently, umami is most popular with Asian foods. After all, it was a Japanese scientist that gave the name 'umami' to this powerful ingredient over a century ago. When he realized that there was a unique flavor that lived beyond the four flavor profiles of sweet, bitter, salty and sour, he knew that he was on to something. As a result, umami went on to become part of the Japanese culinary culture and was eventually bottled up into what we know as MSG. Today, as more consumers become aware of the craveable flavor profile, we anticipate that umami will expand in awareness and broaden across all cuisines.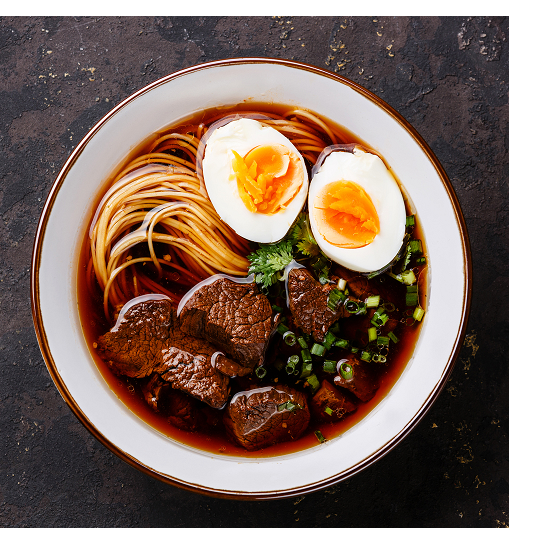 Most often thought of in mushroom dishes, burgers and beef, umami is also experienced with cheese plates, pasta sauces, cured meats and umami-rich soups, such as Miso soup. While most home cooks have not perfected the tricks and techniques associated with adding umami, the growth of retail products that are intended to add umami to the plate may change that in the near future. For instance, many grocers and gourmet shops now offer a version of a umami paste, condiment or spice blend. And, of course, the opportunities to experience umami away from home are abundant.
Umami Burger, one of the early better-burger concepts, hit the nail on the head with their name. Truly, a combination of beef, tomato and melted cheese offers a trifecta of umami to hungry guests and with the flavor in the name of the restaurant; fans can quickly made the connection to why they loved it. Now we see umami popping up in menu descriptors and as product names. Pei Wei describes their sesame sauce as umami-rich, Breugger's beckons you to enjoy the spicy, umami flavor on their Touch of Seoul signature lunch sandwich and Panera Bread introduces their version of umami through a soy-miso broth in their Soba Noodle Bowl.
Umami cannot be contained. From gravies to cocktails, umami is delivered in many forms. In St. Louis, Grace Meat + Three wows guests with their adaptation of the southern staple: gravy. For a umami explosion, go for the herb-roasted beef with mushrooms in a bone-marrow gravy. At Citizen Rail in Denver, the cocktail menu offers a umami experience in The Plunder Road, a mezcal cocktail that brings a perfect balance of bitterness, smoke and umami-sweet together. And for a cheese that always delivers, grab some of Laura Chenel's Black Truffle Cabecou for a mouthful of umami goodness.
There's a reason why Umami was included in our top 10 trends list for 2018. The power of the flavor is truly remarkable. Adventurous patrons will love the distinctive flavor of a Miso Salmon Bowl, featuring our PanRoast® Peppered Biscuit Gravy Mix. Or look to our Craft Toppings™, specifically our Gold Label Wild Mushroom Tapenade, which is perfectly suited for a Beef Short Rib and Wild Mushroom Burger. However you choose to add umami goodness to the plate, your guests will thank you.


Bo Chhay
Manager, Insight & Communication
Custom Culinary, Inc.