Business Building Ideas:
Soup Trending on Today's Menus
Jan 17, 2018
Potato Soup, Turkey Chili, New England Clam Chowder and Butternut Squash Soup are among those getting attention this month for National Soup Month. This promotion-worthy event feels perfectly timed as soups have started to rise as main courses on menus, according to Datassential. Of course it comes as no surprise that soups offer comfort and familiarity during winter months, but where the growth seems to be present is in trending flavor varieties such as pozole, miso and tom yum. It reminds us that menu items that are the most familiar give us the freedom to introduce exotic spices, trending proteins and global flavors.
Over the last few years, we've seen several trends in the soup category. Drinkable soups, pho, bottled soups and broth-based beverages come to mind for specific trends as the bowl craze in general continues to reign. And with 79% of consumers proclaiming love for soup, it's likely that there is an opportunity to continue to find new ways to present it.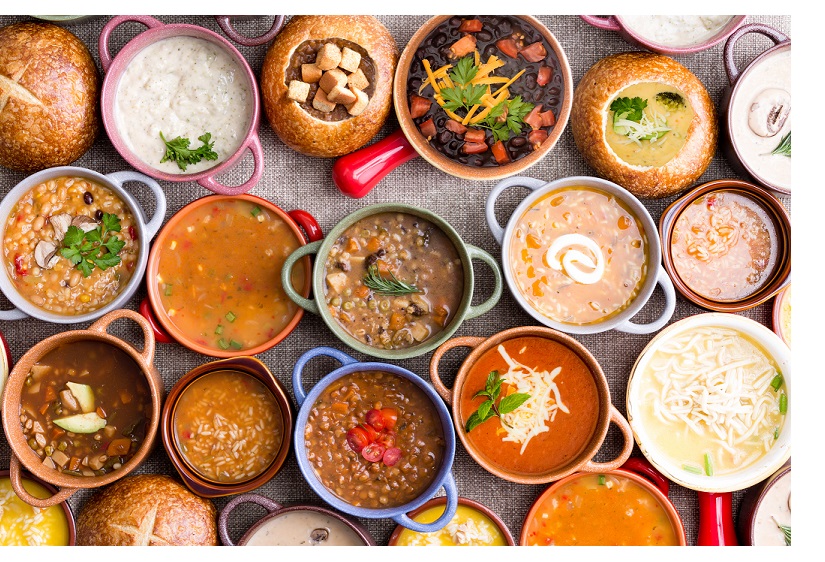 Soup is crafted, not just served. Starting with a quality base or broth and building in the flavors and aromatics is just the beginning of something crave-worthy. Even better, soup offers an operational solution which is simple to menu and execute. It can be integrated as part of a build-your-own concept, provide an option for utilizing food scraps or be developed as a menu extension.
Whether you are a purist or hungry for adventure, there is a soup for you. For instance, Pork Belly is growing on soup menus, most likely tied to the growth of ramen bowls, and offers an ethnic twist on a favorite protein. Pubbelly Noodle Bar in Miami offers a Pubbelly Ramen with lemongrass broth, barbecue pork belly and bean sprouts. Curries, a favorite Indian flavor profile, are quite approachable in soups where their unique taste can be tamed for those that are learning to love this growing cuisine. Chauhan Ale & Masala House in Nashville offers a Tomato and Lentil Curry Soup as a seasonal option that leads with the familiar. While some soups are complex, others choose a simple path and lead with the broth itself. 2nd Floor in NYC has an option that is made with veal bone broth, garlic and fresh parsley. Comforting and flavorful, it is just right for guests seeking a simple meal option.
Start with a quality base, such as our Custom Culinary® Gold Label Chicken Base, and add on-trend ingredients and spices to spark interest. For instance, lentils evoke health, are growing on the menu and are perfectly suited for a soup application. Try this Chicken Lentil Soup or create your own unique version. Look to regional flavors and cuisines for menu inspiration. Our Custom Culinary® Gold Label Shrimp Base is the beginning of a Low Country Seafood Gumbo that brings flavor and variety to any seasonal menu.
Eighty percent of bases are used for soup, offering the foundation from which to explore. From there, light or heavy, classic or modern, the options are truly limitless.


Bo Chhay
Manager, Insight & Communication
Custom Culinary, Inc.