Business Building Ideas:
How Digital Trends are Impacting Foodservice
Jun 12, 2018
What makes a restaurant innovative? Is it the ability to keep the menu fresh? New uses of favorite flavors? Or is it the adaptation to today's top trends? It may be all of the above, of course, but leaning toward the latter will quickly move you beyond the ingredients and into a conversation that includes digital trends. Moving at a faster pace than most and getting the attention of all, digital trends are front and center in the restaurant industry. From artificial intelligence, payment processing, delivery options and robots, this topic is relevant to restaurant chains and independents, but most of all, it's relevant to consumers.
Restaurant customers are demanding digital innovation when ordering in-store and out-of-store, according to the latest Restaurant Readiness Index survey, an analysis of 178 Quick Serve Restaurants (QSRs) compiled by PYMNTS in collaboration with Bypass and Bank of America Merchant Services. In fact, one-third of Gen Z consumers, often called "digital natives," have used a digital assistant, like Siri or Alexa, to help them order a meal. But ordering solutions are just the beginning.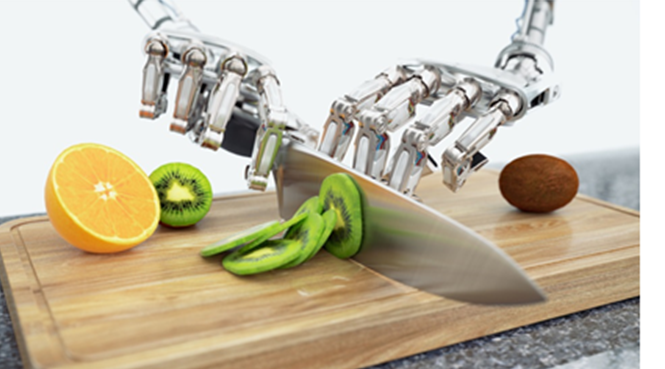 There are new digital innovations all around us, and while some consumers, especially younger generations, are eagerly participating, others have voiced concern over the smart technology that some restaurants are adopting. Three-quarters of consumers worry that robots will replace human jobs, according to Datassential. Flippy, the burger-flipping robot, seems innocent enough, but with 3.65 million fast food restaurant employees, according to Statista, it's easy to see why the highly-funded robot is causing concern. Cali-Burger, an early adopter, plans to roll out the burger-flipping Flippy robot to 50 of their restaurants, including international locations.
Still, others argue that human interaction is necessary in our service-centered industry. Deepak Sekar, Founder & CEO of Chowbotics, the group that is responsible for Sally the Salad Robot, shares the sentiment. In an interview with Datassential, he shared, "We have some of the best chefs in the country working with us. A lot of people think that because of robots people lose their jobs, but that's not true." Even Flippy has to alert human staff that the burger is ready to dress. Plus, high labor costs and turnover continues to be a primary concern. From this angle, robots may not only offer relief to the line, but to those that are responsible for keeping that line staffed.
While robots have gotten a lot of attention, there are many new technologies and services that are deserving of equal attention. Higher engagement, flexible payment options, labor costs, and faster service are all challenges faced by operators. And there's a digital solution or service for each of them. In some cases there is more than one, as technology companies bring their products forward in a highly competitive industry with the promise that they may be able to solve the challenges that consumers and businesses face. The question is: where to start? Taking inspiration from others is where we typically begin.
Cali Group, a technology-investment company and owner of the Caliburger chain, is working on several ideas to help restaurants serve their customers better and more efficiently. These ideas, presented at the Restaurant of the Future SuperSession at the National Restaurant Association Show, include facial recognition for loyalty and payment, gaming and e-sports that allow guests to compete against one another using their own devices, kitchen automation using robots and AI, and delivery using autonomous vehicles.
Austin-based Favor, a favorite delivery service that spread to over 50 Texas cities in a short amount of time, was recently purchased by H-E-B for an undisclosed amount. For a slight fee, users are able to order almost anything to eat and receive it within an hour, delivered by a driver wearing a light blue Tuxedo T-shirt. Now owned by Texas' biggest grocery chain, the power of the delivery service may have just grown even more. A familiar move as Amazon-owned Whole Foods Market announced that Amazon's prime service would be enabling technology-driven delivery for their customers as well.
Kabaq, another tech start-up, grabbed our attention with the offer to bring augmented reality to a foodie audience. Bareburger, a better burger chain, will be one of the first restaurants to give it a try, giving consumers the opportunity to see their meal right in front of them, before they ever place an order. The technology uses custom Snapchat World Lenses and requires customers to scan a Snapcode to place a virtual dish on the table where they can resize it, add filters and snap a photo to share with friends. Since the images are created from a real burger, diners are able to view from any angle and prep their tastebuds for the real experience.
The University of Utah is utilizing 3-D printing technology in their hospital to solve a more functional challenge. Using Foodini, a 3D food printer from Barcelona-based Natural Foods, the kitchen team is able to create food that looks good and is easily digestible for their patients that require a diet of liquid or easy-to-swallow foods. The chefs on staff have been testing new recipes that can pass through the printing cylinders and offer real food solutions that are more appealing and taste better. With a price tag around $2,000, this piece of equipment was designed to serve more than one audience with a wide range of food printing capabilities, including ravioli, pastries, pizza, cookies, and brownies.
Adopting the newest food trend (or fad) isn't always practical, but investing in technology will serve you beyond the seasons. With constant news about start-ups with inventive tools, it's easy to get overwhelmed by the options and wonder what your customers will support. Luckily, getting consumers to accept, trust and try a new service starts in the same place as innovations that have come before it. It starts with solving a real challenge in a novel way. From there, make it easy to adopt, share, and love. Just like any great product or any amazing limited time offer.


Bo Chhay
Manager, Insight & Communication
Custom Culinary, Inc.