Business Building Ideas:
For the Love of Hollandaise
Jul 23, 2018
Diners love Hollandaise Sauce. We know this to be true (and feel the same way, of course). With the rise of innovative breakfast and brunch menus, we have been reminded of the deep love for this classic sauce. In a recent visit to Snooze, a popular Denver AM eatery, Hollandaise stands front and center on the menu with an entire section called "The Art of Hollandaise," prompting us to immediately add the restaurant to our list of favorites. If you'd like to visit this hot spot, it may be coming your way soon. After two steady years of impressive growth, the Denver-based chain will expand next year to the East Coast, according to Denver Business Journal. We'd like to think Hollandaise sauce may be responsible. But, again, we're biased.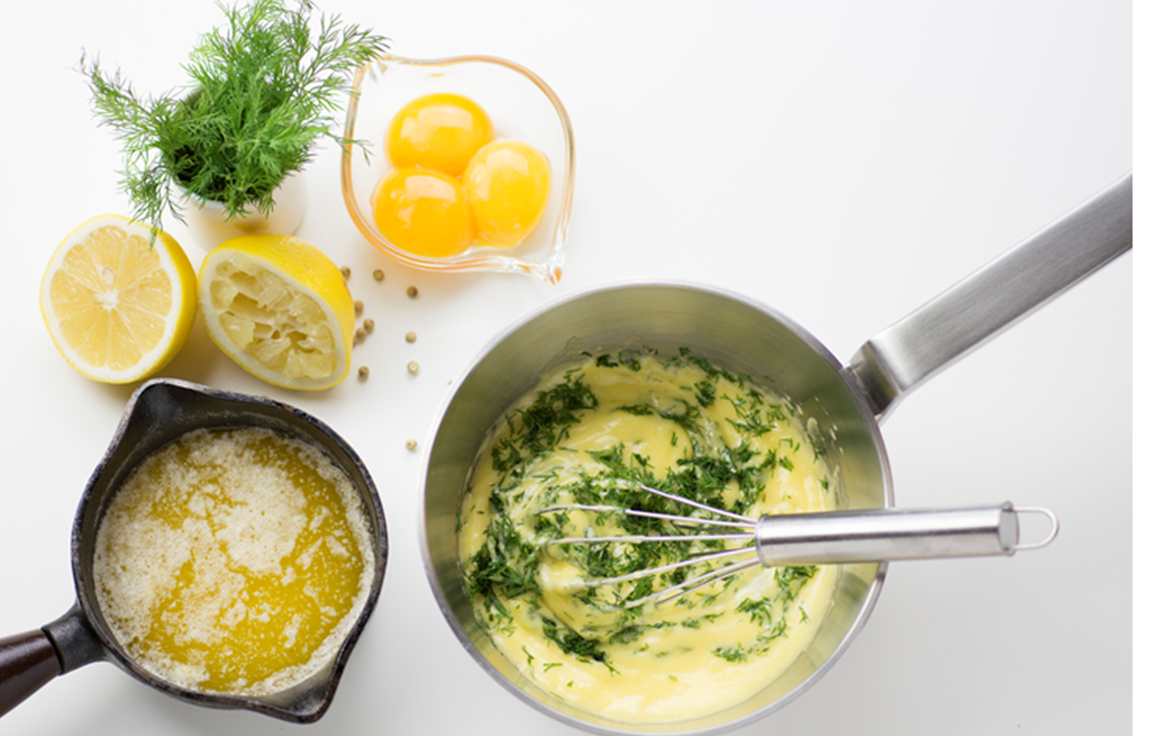 A quarter of consumers profess love for the rich flavors of Hollandaise sauce, but may not have the skills to make it at home. Eating it when dining out makes it even more of a treat, and may be tied to the year-over-year growth that shows no sign of stalling. In fact, after growing nearly 15% over the last few years, Datassential predicts that this trend will continue at a rate of 8% over the next 4 years. Even more, chains have introduced over 50 new items with hollandaise in the last 2 years alone.
While Hollandaise is on 12.6% of total U.S. menus, the percentage quickly increases as we look at specific segments. Fine Dining takes the prize for the highest prevalence at 39.0%, but we predict Casual Dining and Midscale, 16.4% and 14.8%, respectively, will continue to drive the overall percentage up. First Watch, a fast-growing daytime eatery, looks to Eggs Benedict for limited-time-offer inspiration and recently added "Everything" Smoked Salmon Benedict as an option. This offering includes two poached cage-free eggs on top of toasted ciabatta with Wild Alaska Smoked Sockeye Salmon, whipped cream cheese, red onions, hollandaise, and everything bagel spice. Last year around this time, they featured a Barbacoa Benedict, with seasoned braised beef Barbacoa, hollandaise, sliced avocado and fresh cilantro.
Eleven Madison Park, a highly acclaimed and award-winning upscale restaurant in NYC, made room for Hollandaise on their tasting menu, featuring the sauce in a new form that has brought delight to guests. Their clever and interactive presentation deconstructs the elements of the decadent Egg Benedict by offering a pickled egg yolk with caviar, smoked ham, Sturgeon, and Hollandaise, all served in a keepsake tin. English muffins are served on a wood plank, inviting adventurous patrons to build their own bite.
Butcher's Daughter, a plant-based restaurant and juice bar with locations in NYC and LA, serves an Avocado Toast Benedict, bringing a fresh and updated version of the favorite dish to the Brunch menu. They build on a slice of 9-grain toast, smash an avocado with spices and cilantro on top, and then add poached farm eggs and Hollandaise sauce to finish it off.
Village Inn also balances the beauty of Hollandaise sauce with plenty of greens in their recently-added West Coast Stack. To serve, two eggs are scrambled with fresh spinach, broccoli, diced onion, and Swiss cheese and piled atop hash brown potatoes. Hollandaise sauce and sliced avocado are added as the finishing touches.
Lion's Choice, a cult-favorite quick-service restaurant in St. Louis known for their roast beef sandwiches, is testing a new breakfast menu with hot sandwiches, baked goods, fresh fruit, juices, and coffee. The new menu will feature a savory horseradish hollandaise sauce on a Steak 'n Egg Flatbread Sandwich, a hearty sandwich featuring their iconic slow-roasted beef, egg, Swiss cheese, and chives.
Hollandaise is universal—across the day, across segments, and across consumer demographics—and choosing a format that makes sense to your operation is the place to start. Our Gold Label Hollandaise Sauce is made from the highest-quality ingredients, includes real dairy, authentic wine reductions, and fresh peppers, with a made-from-scratch taste. Our Master's Touch® Hollandaise Sauce Concentrate is a great speed-scratch product that includes subtle notes of egg, butter, and lemon, and is ready for your signature touch. Our Whisk & Serve® Hollandaise Sauce Mix delivers the expected flavors of emulsified egg yolk, clarified butter and lemon in an easy, stable format. Whether you choose to make it your own or prefer a ready-to-use option, we have recipe ideas and solutions for you.


Bo Chhay
Manager, Insight & Communication
Custom Culinary, Inc.