Business Building Ideas:
Summertime Fairs, Festivals & Thrilling Food Inspiration
Jul 25, 2018
Earlier this year, we highlighted Carnival Cuisine as a top trend for 2018, and with summer in full swing, it's time to take a look around at the treats premiering at the fairgrounds. The data supported this fun trend with research from Datassential revealing that 53% of consumers shared interest in seeing amusement park foods at restaurants. And why not? The foods that fall into this category are quintessentially fun, nostalgic, and often, incredibly indulgent. With "eatertainment" venues making inroads, food experiences driving visits, and casual dining getting more casual, the market stands perfectly primed for this trend to take hold.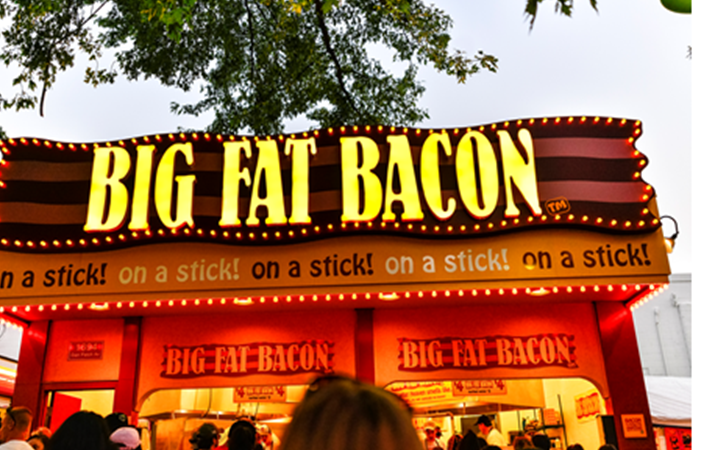 When planning a trip to an entertainment venue, a food purchase is part of the equation. In fact, 94% of consumers purchased food on their last visit to a recreation venue, according to Datassential's Lodging & Recreation Keynote Report. It's part of the experience, after all, with many operations looking to food as a traffic driver with annual food festivals, partnerships with local food purveyors and signature concepts. And consumers love it, with 70% of theme park visitors jumping in line to order foods and beverages they might not eat anywhere else.
Impulse purchase or not, this playful trend lives in the heart of the special occasion. A visit to a fair, theme park, or festival is the time in which rules fall to the wayside and we give ourselves permission to indulge with over-the-top culinary creations. These treats often leave a lasting impression leading over half of consumers to declare interest in seeing their favorite amusement park foods at restaurants and supermarkets. And with record attendance at food festivals, such as the Sacramento Bacon Fest and the Ottawa Poutine Fest, there's no shortage of inspiration for operators in all segments.
Iowa State Fair is just around the corner, kicking off August 9, and guests will likely head to the Iowa Pork Tent to sample this year's treat: The Brown Sugar Pork Belly on a Stick. According to the National Hog Farmer, state fairs are an opportunity for food innovation, and this year the state's pork producers will debut the sweet and savory snack made from a quarter pound of honey-cured pork belly rubbed in brown sugar. The Orange County Fair is currently underway and offers a long list of indulgences to inspire us. According to Food Beast, Deep Fried Filet Mignon from Chicken Charlie's is the one to try with all of the characteristics that you'd expect—breaded and fried beef medallions skewered together for ultimate portability. Another inspirational application featured at the OC Fair is Biggy's Caramel Crack Fries which combines salty cinnamon sugar fries, a hefty drizzle of caramel, whipped cream, and Fruity Pebbles cereal, along with the Peanut Butter, Jelly, and Sriracha funnel cake at Dutchmen's Funnel Cakes stand.
SeaWorld, known for their live dolphin shows and family-friendly attractions, also looks to food events to attract guests to the park. Their Seven Seas Food Festival, now in its 2nd year, brings a sampling of culinary creativity to guests. Running for 3 months each year, international cuisines and applications, such as Papaya Candy, Conch Fritters, Bingsu Salted Vanilla Ice Cream topped with caramel popcorn, and Salpicao Brazilian Chicken Salad, are offered throughout the park. Disney Parks also offer a plethora of inspiration across various concepts, with options like sweet corn nuggets, churro funnel cakes, and cotton candy lemonade.
Similarly, Music Festivals have upped their ante when it comes to menus, and as hundreds of music fans turn up to watch their favorite artists perform, attending chefs have a real-time testing opportunity. Chowhound recently listed the top foods to try at summer festivals like Outside Lands in San Francisco, Austin City Limits, and New Orleans Jazz and Heritage Festival. Cochon de Lait Po-Boy from Love at First Bite, Ramen Burger from Ramen Burger, Fried Cookie Dough Balls by Big Mozz and D?!, Elk and Foie Tacos from Lonesome Dove, Malaysian Lamb Curry Sandwiches from Azalina's, and Porcini Doughnuts from Rich Table all made their list, but it's likely that this merely scratches the surface.  
Portable snacks, shareable appetizers, and poppable desserts capture the spirit of the trend and can be translated to menus in a way that is authentic and fresh. Food Truck Poutine is as customizable as nachos along with our dialed up Triple Play Grilled Cheese, and Sweet Treat Skewers. Carnival Cuisine is all about creativity and spontaneity and should feel as freeform as summertime. We'll be watching for more fun ideas as the season comes to a close and sharing on our Facebook and Twitter pages. See you there.


Bo Chhay
Manager, Insight & Communication
Custom Culinary, Inc.