Business Building Ideas:
Spices: The Gateway to New Cuisines
Aug 16, 2018
Walking into a spice shop, like The Spice House in Chicago, Spice Ace in San Francisco, or Kalustyan's in NYC, is much like walking into a candy store. Maybe that's just us, but even so, there is a feeling of awe when we gaze upon the hundreds of spice varieties lining the shelves. The mix of aromas, the flavor possibilities, and the latest blends are a few reasons why we love to stop in, along with the chance to sample the spices that are trending as we gather inspiration for product innovation.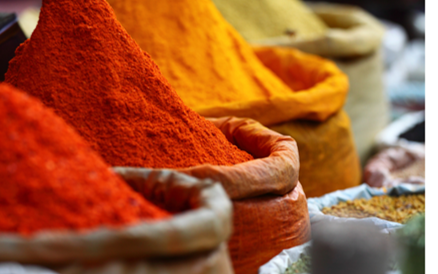 African spices, in particular, have long been available in spice shops, but recently they've been popping up on menus, too. Complex and bright, signature dishes from the African continent are bringing inspiration and new opportunities to chefs who are offering a spotlight on the vibrant flavors to lure in curious patrons. And often, starting with the spices, such as Harissa or Baharat, is a clever approach to introducing new flavor profiles to guests. Although this cuisine sits in the Inception phase of the Menu Adoption Curve, according to Datassential, many of the flavors that fall under the umbrella have started to move across the map and may reach ubiquity before we know it.
Harissa, for instance, has gained attention over the last several years with its vibrant color and distinct spicy flavor profile. Easy to say, and even easier to love, this North African condiment, typically made from chilies, oil, garlic, and spices, has experienced double-digit growth over the last 4 years, according to Datassential. Even more, the paste is expected to grow over 24% in the next 4 years. Similarly, Berbere, a complex Ethiopian spice mixture of chili peppers, garlic, ginger, basil, korarima, rue, ajwain or radhuni, nigella, and fenugreek, is also seeing double-digit growth, with similar growth expectations ahead.
To taste these trending flavors, the options are growing. Head over to Gunshow in Atlanta, where, if you're lucky, they may offer a Beef Short Rib and Squash Blossom "Dumpling" on their modern-day version of a dim sum cart. The squash blossom serves as the wrapper for this dumpling and is stuffed with spicy short rib along with a wild berry harissa sauce and some za'atar. At Maydan in D.C., guests can experience Baharat, a complex blend of spicy, savory, and sweet flavors, on their praise-worthy lamb shoulder. Add in the Beiruti-style hummus, filled with diced tomatoes, parsley, green peppers, and scallions, or the Harissa carrots, and this North African and Middle Eastern inspired meal becomes even more irresistible.
Nur in NYC is bringing North African inspired meals to the Flatiron district. Described as "flamboyant" by Adam Platt of Grub Street, the food served is modern and intriguing. Za'atar is gaining fans in familiar applications, such as the sesame-dotted Jerusalem bagel served with za'atar or the Syrian Caesar featuring puffed bulgur, romaine lettuce, and an anchovy za'atar vinaigrette. Jebena Café, an Ethiopian spot in Seattle, brings authentic flavors with their homemade Berbere sauce, in a bright and friendly space. Brushed on top of crunchy Injera, a sourdough flatbread, or mixed with ground beef, their signature sauce is a staple found all over the Ethiopian-inspired menu.
Whether you choose to make your own blends or purchase from trusted suppliers, the search is getting easier. With an eye toward the trends, we recently created our own signature Harissa sauce. Ready to use as a sauce, topping, or condiment, our Custom Culinary® Gold Label Harissa features a slow reduction of roasted red bell pepper, red chilies, guajillo peppers, red onion, and garlic, seasoned with cumin, coriander, caraway, and habanero pepper. Authentic flavor at its best, we like to top favorite burgers, like a hand-cut Alaskan Salmon Burger or a Moroccan Black Bean Burger, to give guests a mix of familiar with a touch of exotic. Other ideas include folding into a Beef Pot Pie or infusing into Hummus, Mayonnaise or Tartar Sauce.


Bo Chhay
Manager, Insight & Communication
Custom Culinary, Inc.