Business Building Ideas:
BBQ, the Perennial Favorite
Aug 22, 2018
As schools around the country reconvene, it feels as if the backyard grilling season may be winding down. But for barbecue, the term we affectionately reserve for low-and-slow smoked meats, the season goes all year long. Fully entrenched in American cuisine, this ubiquitous flavor profile is loved by 79% of consumers and known well by even more. And the best part for chefs and menu developers? Barbecue offers a playful platform for introducing new carriers, proteins, sauces, and signature variations.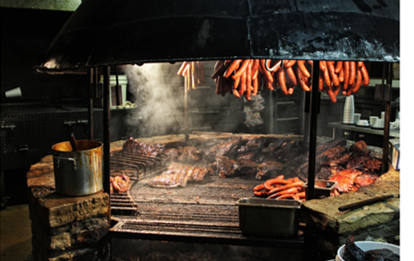 It's true: barbecue is ubiquitous, according to Datassential Menu Trends. And often menu items that have reached ubiquity see low growth, as barbecue does at 1.4% growth over the last four years. But a quick scroll through the list of current Limited-Time-Offers shows just how important this platform is to menu developers. From Publix to Outback to Shake Shack, barbecue is the featured hook in many of the recent LTO launches with 245 new items featuring the favorite preparation style in the last year alone.
Sandwich chains are no stranger to BBQ dishes or the traditional proteins that come to mind, but building a menu around a sauce rather than the protein is a fun twist. Newk's Eatery has announced a complete line up of menu items centered on their house-made White BBQ sauce. Newk's signature White BBQ sauce, made in-house every day, is based on the sauce that founder Chris Newcomb grew up on. The summer line-up, available through September, features the sauce on sandwiches like The Boss "Q", the Pulled Pork "Q", and the Dozen Shrimp "Q", along with Fire & Ice Pickles and White BBQ Sauce Coleslaw. Meaty Johnson's, a Seattle favorite, is a fast-casual spot featuring traditional BBQ meats and sides. Those that come early enough can try their delicious brisket sandwich along with inspired sides like chili, mac and cheese, kimchi potato salad, and jalapeño cornbread.
Pizza chains started looking to BBQ to add variation to traditional pizza sauces years ago, and that twist continues at chains like Papa John's where a smoky BBQ choice was recently added to their menu. The new cleverly named BBQ Meats Pizza starts with a spread of Smoky Southern-style BBQ sauce and is topped with pepperoni, sausage, beef, bacon, and Canadian bacon. Your Pie, a growing pizza brand, is featuring their own white BBQ sauce on their newest seasonal Craft Series pizza, available through September. With a base of white BBQ sauce, topped with three-cheese macaroni, chicken, and bacon, this baked-to-order pizza brings an indulgent Southern favorite to hungry fans.
Adding barbecue to menus can be as simple as a shake of BBQ-inspired flavor to a basket of fries, or as elaborate as an entire featured menu spread. However, with a flavor profile that is loved by so many consumers, the addition must be thoughtful. When thinking about barbecue, it's worth considering the regional differences in flavor (i.e. Carolina, Kansas City, Memphis), the carrier (i.e. bread, pasta, protein) in which it will be served, and the menu description that conveys the flavors of the dish. In addition, plating can also finish the story and offer a memorable branding opportunity. Most importantly, have fun with the flavors. Isn't that what barbecues are all about?


Bo Chhay
Manager, Insight & Communication
Custom Culinary, Inc.