Business Building Ideas:
Why 90% of Consumers Enjoy Brunch
Aug 29, 2018
If breakfast has placed a stake in function, then brunch most certainly claims the right to relax. The most leisurely of the dayparts, brunch has definitely shown us that traditional breakfast rules can be shaken off and replaced with foods and beverages that encourage guests to slow down, drink up, and enjoy the company of those around them. And for foodservice operators, it's a chance to try new flavors, push the limits, and find the sweet spot between breakfast and the rest of the day.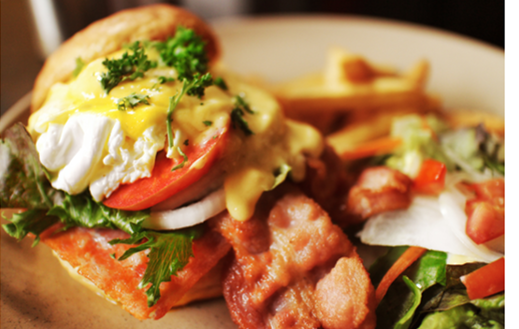 Mintel, a leading research firm, recently reported that millennials and Gen Z are increasingly indulging in relaxed weekend brunches, rather than reserving the brunch occasion as a treat. When asking consumers why they are drawn to the late morning daypart, they shared that brunch is viewed as a unique experience, a treat, a time to socialize, and a chance to relax. With nearly 9 out of 10 consumers eating brunch at a restaurant occasionally, according to Technomic MarketBriefing, the buzz lives on. Independent restaurants like Dig House in NYC and Mission in Washington, D.C., along with many others, place brunch in their daypart line-up. And more chains are getting in on the action and showing us that creativity truly lives outside timeframes.
Forty percent of consumers eat brunch at least once a week, according to Technomic's Breakfast Consumer Trend Report, which also notes that nearly half of bartenders (41%) are promoting more drinks during brunch than they did three years ago. Pile on the growth of morning traffic and the interest of all-day breakfast menus by two-thirds of Millennials, and it seems that all signs point to growth. And, not surprisingly, as long as you have bacon, you'll be on the right path.
As with breakfast inspiration, independent spots are getting the most attention for their on-point ideas and steal-worthy menu items. At The Hampton Social in Chicago, unique items like Chicken & Doughnuts welcome guests, while promotions like "Rosé All Day" keep them there a little longer. Bulla Gastrobar, inspired by Spain's tapas menus with an emphasis on sharing, offers a 3-course prix fixe brunch menu with items like Rillette de Salmón, Huevos Benedictinos, and Blueberry & Ricotta Pancakes.
Chains are also feeling the pull of brunch. Applebee's is working to reach breakfast lovers with their All-Day Brunch Burger complete with bacon, hashbrowns and a fried egg. Wolfgang Puck's Grand Café is serving a breakfast pizza for a twist on a traditional lunch or dinner entrée. The pizza is loaded with bacon, eggs, cheese, and caramelized onions. While breakfast menus are grounded by standard fare, brunch gets the best of both worlds and can pull from either spectrum.
The consumer desire for all-day breakfast lives on, with time allotted to the meal proving to be the true differentiator between breakfast and brunch. If you are able to sit, relax, and savor the flavors, today's brunch menus are sure to deliver. Some of our favorite ideas include a brunch-ready Poached Salmon with Maltaise Sauce or Savory Pancakes and Waffles.


Bo Chhay
Manager, Insight & Communication
Custom Culinary, Inc.