Business Building Ideas:
Has the Poké Peak Passed?
Sep 11, 2018
I was introduced to the Poké bowl a few years ago in the back of a convenience store. At 45th Stop N Shop & Poké Bar in Seattle, I wandered past the candy bars and sodas to discover the delicious flavors of the traditional Hawaiian snack. At this genius location, I felt like I was let in on a secret, and since then, I have been watching the swift growth of the trendy raw fish bowl with admiration. The triple digit growth and Limited-Time-Offer launches of the last 4 years have come as little surprise as the Poké bowl has infiltrated markets and grabbed the interest of health-minded consumers.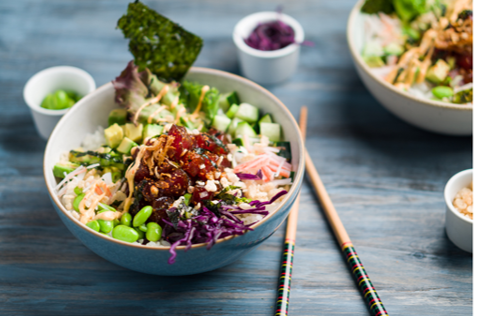 Poké was the biggest fast casual trend of 2017 and the aftermath of the buzz is still in full effect. While it may be new to some, it's not a new concept at all. Traditional Poké originated in Hawaii as a snack taken on fishing trips, and is considered a national dish found in local shops, grocery stores, and convenience stores. Typically cubes of raw fish, sea salt, seaweed, and inamona (ground kukui nut), Poké is simple, fresh, and healthy. And turns out, it's a fabulous base to build on.
New restaurants are popping up with a featured Poké bowl as their signature dish, and may be catching the eye of investors. With lower operating costs and less equipment due to the raw ingredients, Poké restaurants are appealing. According to Yelp, the rise of the fish-centered dish has followed a pattern similar to ramen, but with even more impressive growth. According to the numbers, around 300 Poké restaurants opened each quarter from 2016-2018, at a growth rate of 61% in the U.S, bringing the number of restaurants to 1,900, up from only 67 outside of Hawaii in 2012. According to a comment by Yelp featured on Forbes.com, "no cuisine has had quite the rapid rise in mouth share as poke's — tripling in barely a year from the start of 2016. When compared to the growth of ramen, another cuisine that grew rapidly, poke had five times ramen's growth rate."
But now that the peak has likely hit, what's next for this trend? We predict that new plays on the dish will surface, along with creative interpretations far beyond what would count as traditional Hawaiian Poké. This is already happening in many places. Poke Mon in Portland offers signature combos or a build-your-own option where guests can choose from various proteins, toppings, and sauces. They also offer a selection of sakes to pair with the meal, along with other Hawaiian specials. Pokéworks in D.C. is offering a seaweed-wrapped Poké burrito filled with rice, chicken, kale, cilantro, mango, and orange segments. And Flower Child in Boulder is offering a Vegan Poké Bowl using marinated beet, cut into small cubes. The bowl is topped with avocado, pickled mushroom, cucumber, radish, wasabi pea, smoked dulse, brown rice and spicy ponzu to create a satisfying and fresh Poké-inspired bowl. 
If you are considering adding a Poké bowl option to your menu, we'd suggest building it from the bottom up and making it your own. While the traditional Poké is quite simple, this dish lends itself to exploring new flavors and combinations. Just be sure that the final dish is in line with your brand, menu, and consumer preferences.
Consider the base. Offering choices like rice, greens, or noodles would give consumers variety and choice.
Consider the protein. Starting with a traditional option, like tuna, and a second option, like salmon or tofu, may be enough to get started. Some places are offering chicken, which is far from a poke bowl, but it's an option that can be explored and tested with your guests.
Consider the add-ins, like fermented vegetables or pickled toppings, seaweed, and fresh vegetables.
Consider a rotation of sauces. Miso, aiolis, sriracha, ponzu, soy sauce, and eel sauce have all been offered and are great options. A series of inspired signature sauces could also make a starring role in your poke bowl.
If you're looking for more inspiration, we have the products and recipes to get you started. Check out our Custom Culinary® Gold Label Wasabi Ginger Ponzu Sauce. This flavor-packed sauce is a versatile glaze-style sauce made from lemony ponzu soy sauce, fresh ginger and just the right balance of wasabi horseradish. We use it on our Ahi Poke Toast to create an on-trend appetizer that is beautiful, fresh, and packed with flavors. And just like Poke bowls, it's customizable to fit any kind of menu.


Bo Chhay
Manager, Insight & Communication
Custom Culinary, Inc.