Business Building Ideas:
Vending Machines
Nov 15, 2018
We've all done it—forgotten our lunch on a packed schedule kind of day and ended up staring hopelessly into a vending machine, pressing a button, and crossing our fingers that the snack will get us by. That's right, you're not alone. And a few entrepreneurs are putting their money behind the belief that you might be inclined to try something healthier, fresher, and brighter than the choices that you've come to know. They also think that vending machines are the perfect platform for bringing the better choices to hungry consumers (just like you). Even more, this shift is changing the reputation of these classic machines and delighting us with the possibilities of healthy, sustainability-sourced meal solutions.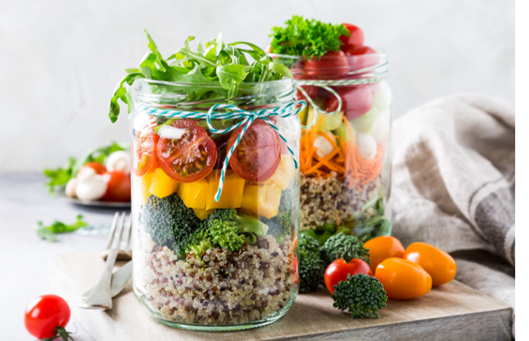 It's true. Vending machines are getting a makeover, and the news is spreading. New prototypes are popping up in all the expected spots—think train stations, airports, bus stations, and workplaces—but also in less expected places, like outside of butcher shops. With all of the news of robotics, and meal kit innovation, perhaps the time is perfectly right. And, with the bright merchandising, smart marketing, and innovative packaging, many busy consumers are giving the meals a try, and finding that a lunch you can feel good about is only a button (or two) away.
MyFreshBowl is one example of the new version of vending machines, offering "farm-to-desk" superfood meals in reusable packaging. With a strong sustainability story, a commitment to being plastic-free, and items made from scratch every day, this is a product that could solve a lot of challenges. Farmer's Fridge is interested in solving the challenge, too. With another round of financing recently closed, growth is inevitable. Salads, bowls, and snacks are already being served to 15,000 people daily with the support of a just-in-time operating system, and the ability to monitor all aspects of the kiosk. It makes us wonder—what's next for these systems?
How about fresh steaks? Yep. Imagine a vending machine with 150 individual pieces of meat, ranging from fresh-cut steaks to ground beef to lamb, pork, and sausage. Whole-animal butcher shop Applestone Meat Co. saw the opportunity and got to work bringing a machine to its loyal customers. They are gaining attention with their fresh-meat vending machines, and have plans to grow their reach. With 24/7 accessibility, their automated vending machines allow customers to purchase fresh-cut meats as available, with options changing daily. In a report by Inc. Magazine, the sales are beating the odds, and accounting for 70% of the company's total sales.
For everything else you may need, Stockwell, formerly called Bodega, is an option that is focused on apartments, offices, dorms, and gyms. They took a more general approach to convenience and stock all of the most essential items, along with snacks and other convenience store items. Their point-of-difference hinges on the combination of technology and convenience in an unmanned box. For all the times that you don't want to run out for that one item, this may become the next best option. And it may not be long before a robot delivers the goods straight to your door.  
All of these alternatives bring innovation spurred by a classic consumer need: convenience and accessibility. No time for lunch? Solved. Craving a fresh-cut steak? Solved. Need a pack of gum or a dose of caffeine? It's right outside your door. Simple solutions to make a busy day feel more manageable (and perhaps a little healthier) are a win in our book.
For the days when you have a little more time, be sure to check out our recipe database for new ideas and recipes. Our Asian Chicken Salad or Ranchero-Style Salad will make you, and your guests, feel good, while a Char-Grilled Top Sirloin Steak with Lime Basil Thai Red Curry Butter will make your butcher proud and add an ethnic twist to a classic steak. 


Bo Chhay
Manager, Insight & Communication
Custom Culinary, Inc.