Business Building Ideas:
Pass the Gravy!
Nov 20, 2018
70% of consumers love gravy, which means the pressure is especially high for delivering an authentic and flavorful version this time of year. No worries, we've got you covered with a whole list of authentic, homestyle gravy products and recipes that are worthy of guests. After all, our gravies are reflective of the flavors and textures that both consumers and operators expect. Plus, they are versatile enough to be served on their own or elevated with the simple addition of one or two ingredients.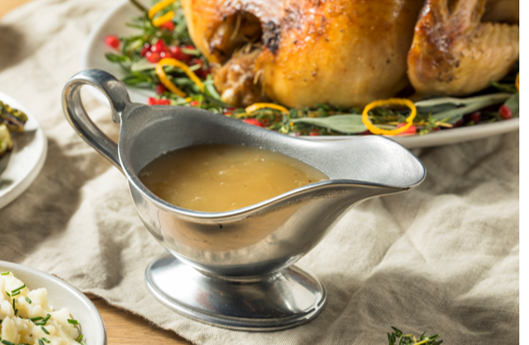 If you want to keep it traditional, and we wouldn't blame you, we'd suggest a Creamy Turkey Gravy or a Homestyle Turkey Gravy. If you want to add a favorite flavor, like roasted garlic, whip up our Roasted Garlic Turkey Gravy and serve with classic mashed potatoes. Another quintessential holiday flavor profile, cranberries, brings a twist to the table in Cranberry Gravy and would be a hit poured atop your stuffing recipe or alongside a beautiful roasted turkey.
If you are ready to experiment with new flavors, gravy offers a familiar base from which to play. Add some Southeast Asian flair to your spread with Sriracha Lime Turkey Gravy, and bring fan favorite Sriracha to guests in an unexpected format. Or bring the popular flavors of spicy Harissa to the Thanksgiving feast in a Spiced Harissa Country Gravy. Try adding some trending spices, perhaps chipotle or ancho, as another way to liven up this favorite staple. Around here, there's no wrong way about it as long as you're true to the food.
Happy Thanksgiving!


Bo Chhay
Manager, Insight & Communication
Custom Culinary, Inc.