Business Building Ideas:
Gen Z loves their Ramen Bowls
Nov 27, 2018
The noodle bowl obsession is still riding high. New restaurants are opening up, and consumers are eager to slurp up an interesting combination. Chefs are using this opportunity to push the limits a bit, to combine cuisines in an unexpected way, and to capitalize on the familiarity that a bowl of noodles brings to even the most adventurous guest.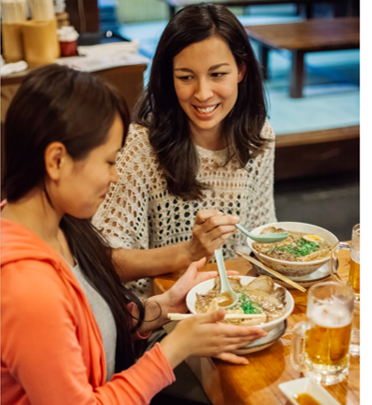 Ramen started to take off in 2012, and since then we've seen year-over-year growth in the double digits. Datassential reports a lift of nearly 50% for the 4-year growth numbers, with a predicted future growth of at least 22%. Definitely a favorite, Ramen brings one-dish simplicity along with global flavor profiles, the comfort of a steaming nest of noodles, and favorite proteins like pork belly, beef, and soft boiled eggs. Flavor & the Menu calls it "the perfect expression of a modern dish." We agree, and can easily understand why this dish is considered an essential comfort food by millions.
If 2018 is the year of the bowl, as Technomic calls it, then we'd say Ramen is easily one of the hottest variations of the trend. While there are many regional and custom varieties, a typical order includes a savory noodle soup that contains seaweed, veggies, and pork. And as consumers become more familiar with the menu item, we're seeing more mashups and variations. Mokbar, with locations in Manhattan and Brooklyn, offers a Korean take on the dish, for example. The bowl begins with Mokbar's signature housemade broth, which gets its meaty flavor from boiled pork and chicken bones, chicken feet, and trotters. Dried anchovies, dried kelp, shiitake mushrooms, onions, carrots, celery, spinach, bean sprouts, scallion, nori and gochujang are added, and braised pork completes the build. From there, guests are able to pick add-ins like a poached egg, bulgogi, and kimchi.
Ramen is most popular with Gen Z, the generation that not only grew up with access to global cuisine, but views "global" as a normal pick on the takeout roster. In fact, 93% of Gen Z consumers claim to love this noodle bowl, giving us confidence that this dish is one to place bets on for the long term. With new restaurant concepts opening, both authentic and creative, there is no shortage of options available. And for operators, a bowl, a dependable broth, and fresh noodles will set the foundation from which to build.
Today, ramen is more common at independent spots, but we imagine that more chains will adopt a version of their own on menus soon enough. And non-commercial foodservice venues, like university cafeterias are definitely showcasing versions of their own as they seek to please a younger flavor-seeking audience. The menu at the University of Cincinnati and University of Maryland are two of many menus that feature ramen bowls for their meal-plan-card-carrying guests.
Momofuku Noodle Bar, David Chang's first and long-running fan favorite, recently added a second location in NYC. Perhaps one of the restaurants to influence the love of ramen, the new space offers more room for patrons to enjoy a noodle bowl alongside steamed breads and rice. Served with barley noodles, their Spicy Beef Ramen with Brisket and Water Spinach, Garlic Chicken Ramen with Yu Choy and Garlic, or Smoked Pork Ramen with Pork Belly and Egg Yok are all sure to please the crowd. Food Halls are also a popular spot for finding a Ramen Bowl. Japan Village recently opened in Brooklyn, NY, bringing food stalls, an izakaya restaurant, and a grocery store. While the food vendors span all sorts of foods, the tonkotsu ramen stall is one worth visiting for an authentic version of this classic dish.
The noodle bowl trend is a lasting one with inspiration all around, and Ramen in particular is a classic in the making. To inspire your own version, pop over to our recipe database for these favorite recipes: Asian Style Ramen Broth Bowl, Breakfast Ramen Bowl, Paitan Ramen, and Sriracha Lime Ramen Bowl. 


Bo Chhay
Manager, Insight & Communication
Custom Culinary, Inc.