Business Building Ideas:
Sauce Innovation
Dec 11, 2018
A sauce can bring delight, surprise, intrigue, and comfort to a meal. It can carry heat, offer a cooling element, be complex, or simple. It can be on-trend, classic, or both. Most days, we depend on it to be a workhorse, to deliver impactful flavor to our guests, and to give us an approachable platform in which we can play. In fact, sauces are where we see a lot of chefs introduce trending flavors, mashup cuisines, and introduce flavor profiles that may be intimidating if they stood alone.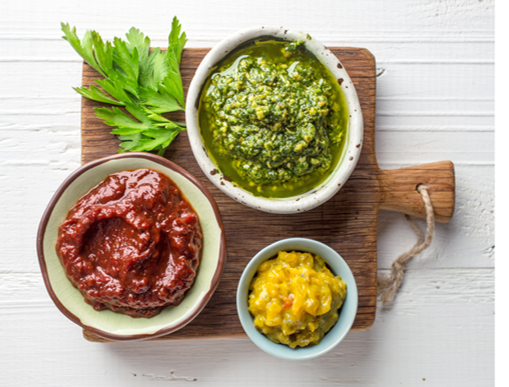 These days, ethnic flavor influence leads the way in sauce innovation. A classic appetizer such as Chicken Wings can feel new by adding an ethnic twist to the dipping sauce. At Barbacoa in Boise, ID, their Hibachi Chicken Wings are served with a Latin dipping sauce. At Milkwood in Louisville, KY, their Smoked Chicken Wings are served with an Asian-inspired dipping sauce. While the protein is similar, the flavors of the sauce will feel wildly different.
An aioli is a popular, and classic, sauce to serve alongside appetizers and on sandwiches. Growing at 35%, an aioli can carry Latin, Asian, or North African flavors, and deliver a new experience with each bite. Flavor & the Menu recently featured a signature aioli made with brown sugar, tomato paste, and chile powder, created by Matt Harding of Piada Italian Street Food. Topped with a seared Wagyu, this sauce adds creaminess and richness, without overpowering the delicate beef. At Sawgrass Marriott Golf Resort & Spa, a locally-sourced datil pepper aioli brings heat and fruity flavor to their signature BLT sandwich.
Bright flavors, such as ginger and citrus, translate quite well to sauces and bring a pairing opportunity for grilled and fried proteins, especially seafood. Barramundi, for example, is versatile, sustainable and ideal as a filling for fish tacos, and its mild flavor means that bold salsas and sauces can be the star of the show. Approachable and balanced sauces like sriracha-lime crema, sesame-soy yogurt, or mango-chipotle salsa offer a punch of flavor without overpowering the plate.
Sauce Odyssey, an Austin, TX food trailer has built a business around showcasing small batch sauces and condiments from around the country. With 14 featured hot sauces, they are able to tell the story of each sauce, while offering variety and unique flavor combinations to their guests. Now the trailer has turned into a restaurant with a full menu full of options. Facebook fans rave about the restaurant, calling it a "must visit" and "one of the best new food trucks in town." Could it be the sauce?

We have to admit, we know a few things about sauce innovation. Our line of Ethnic Accents will give you all of the inspiration you need to bring ethnic-inspired sauces to the menu. Chicken Satay is instantly elevated after dipping into our Gold Label Thai-Style Roasted Peanut Sauce. The same is true of appetizers when paired with our Gold Label Wasabi Ginger Ponzu Sauce. And our Ready-to-Use Sauces make it easy to build on classic sauces with trending flavor profiles to offer a truly signature experience. Need more ideas? Head on over to our recipe database where you'll find hundreds of ideas created and curated by our culinary team.


Bo Chhay
Manager, Insight & Communication
Custom Culinary, Inc.