Business Building Ideas:
Korean with 'Cue
Dec 21, 2018
Gathering around a meal with friends and family is on our minds this week as we gear up for the holidays. Food is a key component of a celebration, and Korean BBQ, in particular, centers on cooking and eating together. With rapid growth over the last few years, this popular cuisine is built around the cooking experience, with raw meats, sides and condiments often brought to the table where everyone can then cook together, eat together, and share an experience that is equal parts delicious, interactive, and memorable.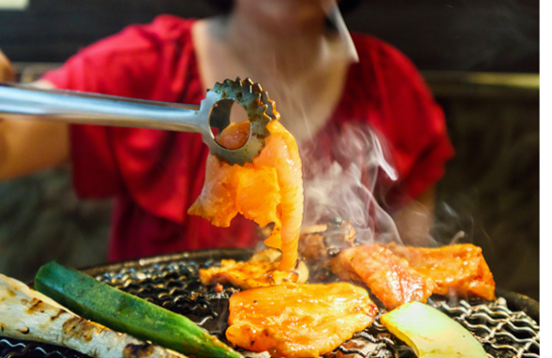 Most commonly, ingredients like kimchi and gochujang will be served, alongside the fresh, marbled meats that have earned the starring role on the menu. Beef, chicken, pork and shrimp are all fair game, but bulgogi, a marinated sirloin that's cut into thin, bite-sized pieces, has become particularly popular. With the banchan (side dishes) to finish out the meal and the natural ease of BBQ in the name, Korean BBQ has become one of the most popular expressions of globally-inspired foods.
Korean BBQ started its upward trajectory in 2012 and can boast a 10-year growth rate of +379%, according to Datassential. Even more, it's expected to grow another 25% in the next 4 years. Digging deeper, popular items like bulgogi, kimchi, and gochujang have grown quite impressively as well, bringing growth rates of +53%, +59%, and +492.3%, respectively. 
While traditional Korean restaurants have been hosting these flavors for decades, we've watched the flavors hit quick service, fast casual, and casual dining menus in all sorts of variations over the last few years. Miller's Ale House recently introduced Crispy Cauliflower with Korean BBQ sauce, Carl's Jr. menued a Korean BBQ burger in 2017, and Red Lobster extended their Endless Shrimp promotion to include a limited time offering of Korean BBQ Shrimp in 2016. The steady year-over-year menu penetration, coupled with product purchase trends, demonstrates mainstream appeal and acceptance, and also reiterates likelihood of repeat purchases. In fact, in the last year there has been a 120% increase in delivery of Korean BBQ products by broadline distributors, according to NPD's SupplyTrack. 
As with all flavor profiles that take off quickly, there is question as to what will come next. Will the flavors continue to pop up in various forms, or will we start to see an evolution? Our prediction is a steady move toward regional variations of the flavor profiles, and continued expansion in the components that are served alongside the meats. Noodles, broths, vegetables, an introduction to new sides and accompaniments, alternative proteins, and signature sauces are just a start.  
Genwa in Los Angeles offers an upscale environment and marbled, juicy meats, but they are getting attention for their endless selection of sides, too. Glass noodles, seasonal mushrooms, and a list of fresh vegetables are all as delicious as the meats that they feature, and all authentic. Breakers Korean BBQ in Atlanta serves the grilled meats that are synonymous with Korean BBQ, but they have also installed downdraft grills to eliminate the smoky byproduct of the cooking technique. Diners can enjoy locally sourced ingredients, the abundance of meats in an all-you-can-eat format, and forget about the smoke.
The flavors of Korean BBQ definitely offer an umami bomb that consumers crave. With the combination of marinated, grilled meats and fermented flavors, there is a mix of some of the top trending ingredients all in one place. We took a look at the explosion of Umami in our 2018 trends, and showcased the attributes of umami-rich foods. In 2019 our chefs will be highlighting a plethora of Korean recipes and flavors—which will be accompanied by a new line of products featuring Korean-inspired sauces, concentrates, and marinades. More to come on this in the new year!


Bo Chhay
Manager, Insight & Communication
Custom Culinary, Inc.