Business Building Ideas:
Cheers to 2019 (and the trend predictions)!
Jan 02, 2019
Welcome to 2019, friends. We're taking this week to celebrate and reflect, and to dive head first into the predictions of the year ahead. So sit back, grab a cup of cheese tea, and read along with us.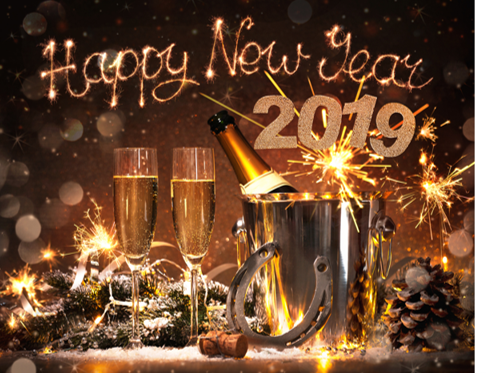 Tahini desserts, the explosion of Za'atar, and the continued lift in non-dairy milks, specifically Oat Milk are on our watch list, along with the rise of turmeric and ghost restaurants. But there's so much more. For one, there's a new lettuce in town, according to several experts. If you're running out to grab a salad in honor of a resolution, see if you can find Celtuce. Hailed the next lettuce by both culinary crowds and journalists, this pick is being called the "Mean New Green" and "the new kale." Watch for a stalk that looks a bit like celery and a bit like asparagus and is topped with bitter and bright green leaves. 
Speaking of vegetables, they continue to take the leading role (and we're cheering them on). Cabbage is predicted to move into cauliflower's space, according to Delish. Overall, plants are more often the main course as more diners seek to reduce their intake of red meat. Ugly produce can breathe a sigh of relief, too. They're still on the hot list, along with Veganism, and Peganism. 
For hot cuisines, we have plans to enjoy Georgian cuisine this year, and we aren't alone. In fact, Nation's Restaurant News claims it will be the cuisine of 2019. While Khachapuri, the traditional Georgian dish of cheese-filled bread, is reason enough to seek out the cuisine, we're anxious to get out and try the other local fare that hails from the region.  
Of course we have a set of our own predictions for the coming year. We'll be releasing these very soon, but in the meantime, here's a reminder of the list we released in 2018. Our team hunted and tasted their way across the marketplace and identified 10 hot trends that were backed by industry research and supported with products to bring them to life. Looking back, we were pleased to see interpretations of each trend on restaurant menus, Instagram feeds, and in recipe requests.
More to come! We'll be back with the list for 2019 before you know it.


Bo Chhay
Manager, Insight & Communication
Custom Culinary, Inc.