Business Building Ideas:
Is 2019 the Year of the Pegan?
Jan 16, 2019
Have you heard of the Pegan diet? Part-paleo, part-vegan, this diet has made its way into many top trend lists for 2019. We have to admit, we're scratching our heads a bit. A Paleo diet consists of lots of meats, seafood, fruits, vegetables, nuts, and seeds. A Vegan diet consists of no animal products at all, but does include whole grains and legumes. Mash the two together and the new resulting diet will include fruits, vegetables, healthy fats, nuts, and seeds.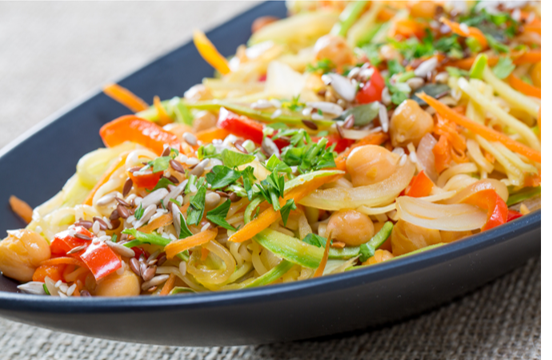 The search for how to eat like a Pegan is exploding on sites like Pinterest, among others, fueled by the hunt for healthy habits. In fact, the search for the term rose 337% in the past six months, and the goal is this: eat more organic whole foods, lots of plants, and healthy fats like those found in coconut oil, avocados and nuts. Sugar is out, for the most part, as is meats and dairy products.
The diet is quite restrictive, but is the result of a much broader trend to eat more plants, more whole foods, and less animal protein. It's also a derivative of those that came before it, including Paleo and Vegan, of course, but also Whole 30 and Raw Food Diets. Just as those lifestyle adjustments have continued to gain momentum, so will the consumer shift to more plant-based eating habits. And fad or not, it will be fruitful to prepare ourselves for eaters that lean to multiple ends of the spectrum.
So, what would a Pegan diner order? They'd look for vegetables, of course, and pair with healthy fats, fruits, sauces, and an unlimited bounty of herbs and spices. A cucumber, watermelon and avocado salad is something we can all rally behind, and meets the criteria. A veggie stirfry atop cauliflower rice fits the bill, as does a bowl of veggie ratatouille alongside a plate of zoodles. Sweet potatoes add heartiness to salads and main plates, and roasted vegetables can easily take the lead as a host for rich tomato sauces or fresh herbs and vinaigrettes. And cauliflower, already a star, can be transformed into gnocchi, "wings" or a meaty option for a spin on tacos or pizza.
Some health experts, including the doctor that coined Pegan, adds a bonus: unlike a strictly vegan diet, there is room for a bit of animal protein, and unlike a strictly paleo diet, there is room for beans, legumes and non-gluten grains. These additions add plenty of space to play. Legumes offer a base for vegetable-heavy salads, as does quinoa, and other ancient grains. Soups are also a perfect fit for those looking to fill up in a vegetable-forward way. Pumpkin Soup, Butternut Squash Soup, and Sweet Potato Soup are all winners, in our book.
However you choose to introduce new vegetables this year, we're in. In fact, we just announced our top trends for 2019 and vegetables play a role in many of our predictions. Check them out, let us know what you think, and stay tuned for a monthly deep dive into each trend.


Bo Chhay
Manager, Insight & Communication
Custom Culinary, Inc.