Business Building Ideas:
Ghost Restaurants are Not Hiding
Jan 24, 2019
We would bet that you've ordered takeout this month, and if you're like most consumers, you've ordered food delivery, too. Because 86% of consumers are using food delivery services at least one time per month and the number is rising, according to Technomic. The rise of food delivery services and delivery apps is set to fundamentally change foodservice.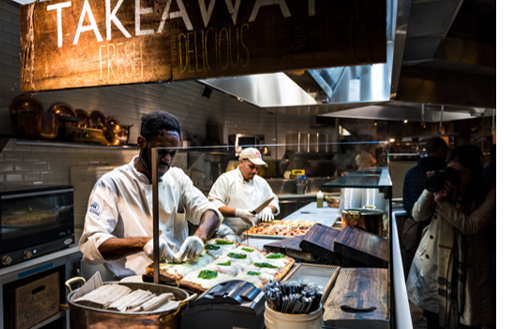 As restaurants work to solve for the surge in delivery, some are seeking new ways to meet the need without adding the costs. Enter the Ghost Restaurant. A virtual restaurant, this format is growing in popularity and relevance. Basically, it eliminates the need for customer-facing staff, the need for a storefront, seating, and other Front-of-House costs associated with a traditional brick-and-mortar restaurant. The food is typically ordered through a third-party food-delivery company, like GrubHub, Postmates, DoorDash, or others.
It's a logical model. More consumers are eating in, to start, and with the rising costs of minimum wage and rent, a delivery-only restaurant can dial in on the food and the delivery process, and worry less about the rest. Even better, the team can be nimble to changing preferences, introduce new trending flavors with little cost (beyond food costs), and work in a space that is often far less expensive.
In an article on FastCasual.com, they shared that by 2020, online ordering and food delivery will surpass $74 billion worldwide. They went on to share an interview with CNBC, Andrew Charles, Chief Analyst at Cowen Inc., who projected a "79% surge in the total U.S food home delivery market over the next five years."
Seaside's in Chicago is a delivery and takeout-only restaurant serving fried chicken, ribs and lobster. Partners include DoorDash, UberEats, Grubhub, Caviar and Ritual, and menu offerings are simple with multiple sizes to feed small and large groups. Famous Dave's is getting in on the game, announcing last year a test location in Pasadena, CA that wouldn't have seating, and would work from a shared kitchen. If it proves successful, there are several more in the works. DFC Ghost Kitchen in Los Angeles opened last fall to offer "Dante's Fried Chicken" to Koreatown residents. The namesake bone-in fried chicken and wings is served with a sweet apricot sauce, and pairs well with the smoked pimento mac and cheese with Gouda. Including Ghost Kitchen in the name of the delivery-only restaurant is a fun spin, too.
Other companies are trying to help arm restaurants with the space to succeed. KitchenPodular, a startup in Las Vegas, is offering modular commercial kitchen spaces that can be installed almost anywhere. Their goal is to provide restaurants, ghost or otherwise, with a versatile and affordable option to scale up their delivery operations. 
As the trend continues to build, we anticipate more service models will emerge. Even more, we're anxious to understand how experience and convenience will intersect in this conversation. Stay tuned.


Bo Chhay
Manager, Insight & Communication
Custom Culinary, Inc.