Business Building Ideas:
5 Funky Ways to Try Kimchi
Mar 14, 2019
Most chefs, like many consumers, have a connection to fermentation. A fond memory in the kitchen, an amazing dining experience, or a particular aroma often guides us back to the time and place. Chef Mike Speranza, CEC talked with us about his favorite memories and meals featuring fermented ingredients and based on the rise in interest alone, we would guess that many have had similar experiences. Fermentation is one of the oldest cooking techniques, after all, and lives on now as chefs seek to create the next craveable funky flavor using ingredients that may seem out of the realm.
Fermented honey, radishes, poblanos, blueberries, and black beans are just a few ingredients that we've seen in concoctions lately. Pickled ingredients, too, like preserved lemon, pickled eggs, and the use of fruit vinegars bring even more possibilities. With the rising interest in healthy guts and wellness, coupled with the love for ethnic flavors, we know that there is much creativity yet to be seen. Consumers are showing more interest, with millennial women leading the way, according to a 2018 study by Better Homes and Gardens' Food Factor. In the study, consumers shared an interest in global foods and flavors, especially ingredients like chipotle peppers, hoisin, and kimchi.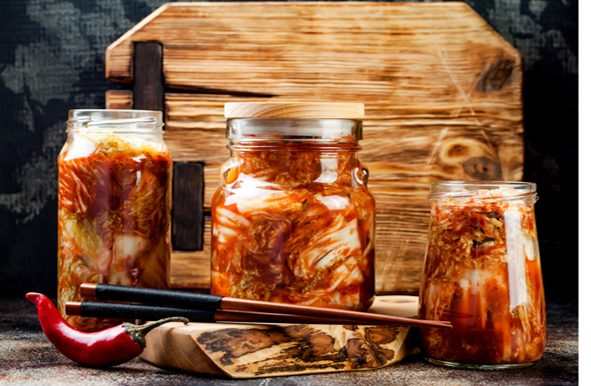 Kimchi has been in the spotlight as this trend has grown, with the love for the funky, fermented ingredient growing swiftly. In fact, 14% of consumers love kimchi and nearly 50% know about it. It shows on the menu, too, with nearly 60% growth over the last 4 years, according to Datassential. Packed with flavor, Kimchi has hit menus in all sorts of ways—in traditional dishes, on the side, and in new creative mashups.
Mokbar in NYC sticks with tradition, as inspired by the chef's Korean grandmother, where kimchi is served alongside many of the meals. The restaurant started as a ramen stand and has expanded to two locations serving Korean staples such as dumplings and kimchi. The menu brings a version of home cooking to guests, starting with proteins, such as pork belly sautéed with kimchi, and adds banchan, soup, and salad as accompaniments to the meal. At bopNgrill in Chicago, a Kimchi burger awaits diners, bringing Asian flavors to an American classic. The burger is topped with caramelized kimchi, cheddar, fried egg, bacon, and kimchi mayo. To round out the meal, grab the kimchi fries, too.
With this trend, vegetarians can participate just as fully. City, O'City in Denver is betting on interest with a vegetarian lineup that delivers the flavor. The entire morning menu is plant-based-diet friendly and offers a mix of options that will appeal to the masses. For those seeking a funky start to their day, we'd suggest the gluten-free kimchi pancakes topped with pickled carrots, sesame seeds, and sweet soy sauce with a kombucha mimosa to wash it all down.
Kimchi has also moved beyond the specialty aisles in grocery to meet widestream audiences. And just as the fermented favorite can be altered to meet vegetarian needs on the menu, it can in packaged versions as well. In many versions, kimchi is flavored with brined shrimp or fish sauce, limiting its reach as more consumers look to plant-based or vegan lifestyles. Nasoya's probiotic-rich kimchi line, as headlined on trendhunter.com, contains minimal ingredients in their new vegan kimchi line-up of products. Free from artificial flavors and preservatives, the products are available in Spicy, Mild, White and Radish varieties, with the latter listing only radish, green onion and salt as ingredients. Jongga is another brand betting on kimchi as a fundamental ingredient in pantries and is expanding its business in the U.S. with a spin on the Korean staple with a line of jarred kimchi salsas. Under the O'Food brand, each of the salsas feature a kimchi base with variations like tomato, garlic, and jalapenos, gochujang, and green pepper and onion.
Kimchi, and many fermented ingredients, are perfect as a standalone side, a secret weapon on a sandwich, or as an ingredient in an unexpected dish. We particularly like adding pickled vegetables to sandwiches like a Bánh Mì Chicken Sandwich or topping a pizza for a new twist on the familiar. The entire menu is fair game with this trend, and with so much inspiration at our fingertips, we'll be quite busy dreaming up what to ferment and pickle next.


Bo Chhay
Manager, Insight & Communication
Custom Culinary, Inc.