Business Building Ideas:
March is National Nutrition Month
Mar 19, 2019
National Nutrition Month® comes around every March and this year brings even more resources, ideas and support to celebrate the occasion. The campaign was created by the Academy of Nutrition and Dietetics and this year the theme centers on "Start Simple" with an emphasis on the importance of good nutrition. Hospitals, universities, and schools are all getting in on the celebration with programming that supports staff, students, and guests with education, information, and proof that delicious doesn't mean compromise. In fact, it's quite the opposite as many of today's top restaurants have shown us.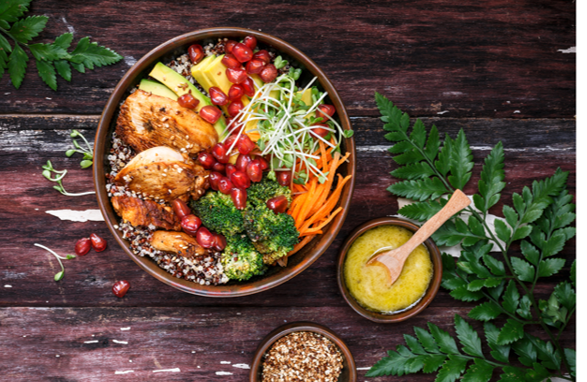 The definition of healthy has evolved. While 39% of consumers look for or consider calorie counts on menus, the quest for healthy is often much more than calories alone. In some cases it's ingredient-led, and in others, lifestyle adjustments take the lead. For instance, diet-friendly menus, like Keto, Whole30 and Paleo have taken a sharp uptick. Paleo, with a growth rate of nearly 80% over the last 4 years, according to Datassential, is available to order in many restaurants. Chipotle recently introduced a Paleo Salad Bowl and a Keto Salad Bowl, for example, and BurgerFi is menuing a new Ketogenic diet-friendly burger called the KetoFi. According to Technomic, the Keto diet is on the mind of many consumers, with 14% having tried it and another 34% considering trying the diet soon.
At Billy G's, a staple in St. Louis, there is a menu for the guest that seeks a perfectly portioned meal centered on whole foods and balanced ingredients. It's called the macro menu and includes a build-your-own menu of bowls packed with proteins, carbs, vegetables, and healthy fats. Choose from the top sirloin or grilled chicken and load it up with choice of rice, broccoli, carrots, and low-sodium soy sauce. They also offer a zoodle bowl with low-fat mozzarella, parmesan, basil, cherry tomato, garlic, and bacon.
Crushed Red, with locations in Oklahoma, Kansas, Missouri, Illinois, offers an extensive salad menu filled with crafted options and a long list of ingredients in case you want to craft your own. The Wild Spring Salmon salad leads with chilled wild-caught salmon and is topped with fresh ingredients like oranges, cucumber, red onion, goat cheese and toasted almonds with a sesame ginger dressing. This Pear is on Fire bowl is filled with spiced pears, dried cranberries, bacon, goat cheese, avocado, spinach and house mix, tossed with habanero honey dressing and topped with candied walnuts.
Urban Cookhouse, with locations in Alabama, North Carolina, South Carolina, Tennessee, and Georgia, is trying to make healthy options easier to access. Some locations even have a drive-thru window as they work to debunk the myth that healthy isn't fast. With locally sourced ingredients and a farm-to-table mentality, Urban Cookhouse brings a wide range of seasonal salads, familiar sandwiches, and healthy sides to hungry diners.
Seed, with 2 locations in New Orleans, encompasses today's version of healthy. A contemporary design with a contemporary menu, guests are able to order their favorite fare, like Gumbo, with a healthy, vegan spin. Their Southern Fried Nuggets lead the appetizer menu with deep fried tofu, chickpea flour, and choice of agave mustard, BBQ, buffalo, or garlic aioli dipping sauce. Artichoke Cakes fill the role that crab cakes may normally hold with artichoke, heart of palm, roasted corn, red pepper, green onions, garlic, gluten free panko and buffalo drizzle. Spiralized noodles play a starring role on the entrée menu alongside whole grain options and sweet corn polenta, offering variety and flavor to guests with multiple diet needs.
Northwestern Dining, in partnership with Compass Group North America, is leaning on National Nutrition Month to inspire students to make informed food choices as they begin to develop thoughtful eating habits. Hudson Regional Hospital in New Jersey is also leaning into the theme to encourage patients and family members to put the tools to work in 2019. Portion control, introducing a variety of foods, and slowing down to enjoy the meal are all strategies that the hospital is sharing.
It's easy to see that healthy isn't what it used to be. We have loads of recipe ideas that work for multiple lifestyles, diet needs, and nutritional strategies to help out. Just remember to be true to the food, and you'll be all set.


Bo Chhay
Manager, Insight & Communication
Custom Culinary, Inc.