Business Building Ideas:
Be True to the Food®
Apr 10, 2019
Be True to the Food® isn't just a tagline for us. It is how we think about our work, how we approach innovation, and how we connect with our customers. This fundamental belief is how we built our business, and in our opinion, how we've continued to be invited to provide foodservice and food processing professionals with true, real and authentic flavor solutions. Even 70 years later, this passion could not be more relevant, even as consumers and flavor expectations have shifted. Who knew that being authentic, focusing on real, genuine ingredients, and delivering uncompromising flavor would be just as important today as it was then? Would you forgive us if we said that we did?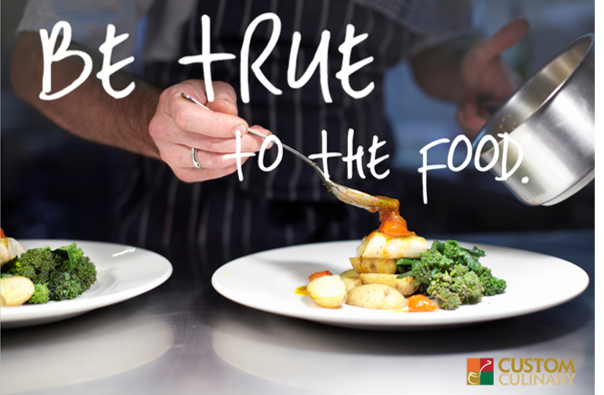 Here's another thing we know: consumers will always hold flavor in high regard. Today, tomorrow, and another 70 years from now. Because flavor is how a meal is set apart from the one before, an opportunity to create a memorable experience, a story worth telling. We get it. It's in our DNA. We are a culinary-centric organization with a mission to help you create offerings that create those stories by standing out and standing up to the standards of today's guests. And we enthusiastically embrace the importance of global and regional influences, local sourcing, and cleaner ingredient statements, because we know how important it is to you and your customers.
So how do we translate these beliefs into products that you can trust? We start with the finest ingredients and focus on delivering the true flavor of each one. The taste comes through, the aroma is unstoppable, and the texture is true to its origin. In our bases, sauces, gravies, and soups we bring our culinary ideals, the high expectations of our founders, and pledge to take your offerings to remarkable new heights.
Our bases are truly best-in-class. From traditional paste and granular formats to our newest liquid concentrates and ready-to-use Asian broths, we offer an impressive selection of flavor-forward bases suited to every back-of-house need.

Our classic sauces offer today's exciting global and regional blends, and the most authentic culinary flavor systems. From traditional classics, such as Alfredo and Hollandaise sauce, to on-trend ethnic accents, such as Sun-Dried Tomato Pesto Sauce, we bring authenticity and simplicity together for you. 

From Southern-style breakfast to Thanksgiving dinner, gravy is the comfort-food classic that can make a meal memorable. Our gravies reflect the authentic, homestyle flavors and texture that both consumers and operators expect. Plus, they're versatile enough to be served on their own or elevated with the simple addition of one or two ingredients. 

Our new Whisk & Serve® Soup Mixes enable you to quickly and easily set your menu apart – just add hot water and whisk until smooth. Authentic flavor shines through every single time. Even more, add your own special ingredients to create signature soups to please your guests and bring them back for more. 
Will you join us in being true to the food? We bet you will, and as you can see, we've got all the building blocks to get you going.


Bo Chhay
Manager, Insight & Communication
Custom Culinary, Inc.