Business Building Ideas:
Hungry for a Sandwich?
May 01, 2019
April was Grilled Cheese Month—did you know that? But, in our minds, a sandwich cannot be celebrated in a month. It's an everyday occasion, a lunchtime tradition, a flavor carrier, and an opportunity to export new flavors in a familiar form. And, let's be honest, it often hits the spot when you're really, really hungry. So let's talk sandwiches, shall we? On nearly 73% of menus, this comfort food is as classic as white bread, especially when it's topped with peanut butter, bacon, or melty, gooey cheese, and welcomed by nearly all consumers. Try 83%, in fact, according to Datassential--that's how many consumers love a good sandwich.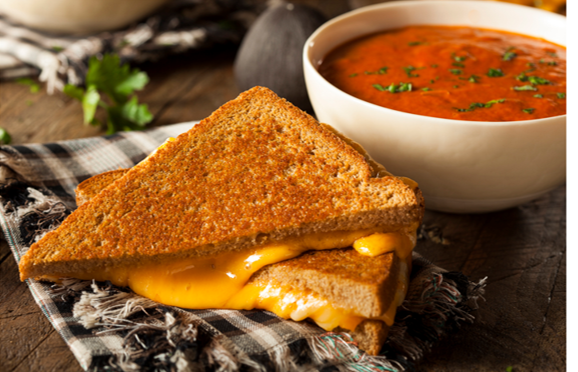 Like soups and sauces, sandwiches bring nostalgia, versatility, and portability together in a vessel that can be simple or packed with a punch. For instance, a sandwich can become new and fresh with a signature sauce or shine bright with an exotic twist that may have felt risky if ordered alone. And you've heard us say this before, a third of consumers are hesitant to eat ethnic flavors when the ingredients are unfamiliar, while another third are willing to try ethnic dishes that feature a twist on the traditional recipe. Sandwiches are especially resilient for both sides of this conversation. Remember the explosion of the banh mi? A perfect example of a globally-inspired sandwich that feels approachable to all. We even created a version with southwestern flair.
If you're looking for something familiar, we have a few suggestions. Perhaps a Cheesy BBQ Brisket Sandwich will do the trick for your guests, or a Beer Cheese Roast Beef Sandwich for something even more cheesy and craveable. A Blazing Applewood Grilled Chicken Sandwich is another winning combination with a bit of spice, a bit of sweetness, and a little crunch. Our Wild Mushroom Chicken Sandwich is one more way to elevate a chicken sandwich, bringing in a mushroom tapenade that will have guests asking for more.
If you want to push out a little farther, and we support you by all means, try incorporating new twists with a beautiful sauce or a well-known brand name. We did both with this Blue Moon Orange Beer Batter Fish Sandwich, which we topped with a Harissa Tarter Sauce, and sent out the door for tastings. Vote is in—it's amazing, so we whipped it into some Mayo for a Mediterranean Chicken Sandwich and haven't stopped mixing it into everything yet. But, of course, we'd be remiss to forget a Mole spin with this Mole Ahogada Sandwich which we highly recommend, especially as Oaxacan cuisine continues to take off.
We could keep going, you know, but we'll stop there and offer our recipe database for more sandwich varieties. You really can't go wrong in this category, in our opinion, except not to try something new. If you're feeling stumped or seeking new inspiration, let us know. We're busy coming up with new twists and ideas all the time.


Bo Chhay
Manager, Insight & Communication
Custom Culinary, Inc.