Business Building Ideas:
The NRA Show Starts This Weekend!
May 14, 2019
NRA weekend is upon us. Nearly 50,000 restaurant associates will be flooding the Chicago area over the next several days to walk the floors of McCormick Place, take in the education sessions, and taste, see, and experience the innovation our industry has to offer. Perhaps you'll grab a seat in one of the signature sessions to learn about the future of dining or catch an early screening of an award-winning film. Of course, a demonstration from the World Culinary Showcase Lineup is worth adding to your schedule, but a quick (or long) stroll along the rows of booths may be the quickest way to take in the current trends.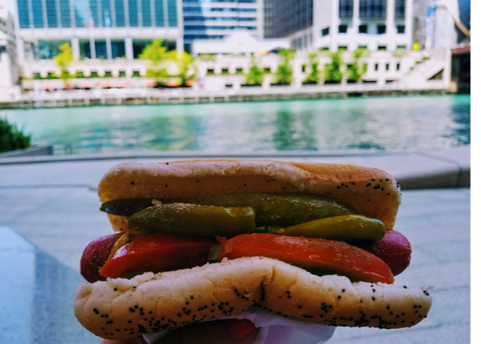 This year we're expecting technology to play a starring role, as well as global cuisine and many plant-based innovations. Plus, the education sessions are ripe with tools and insights on a diverse set of topics: ethnic mash-ups, nutrition and sustainability, mobile technology, menu forecasts, and workplace culture, to name a few. After catching a few sessions, making a loop or two around the show, we plan to compare notes and then jet out to see trends in action. In other words, hit the streets of Chicago and dine on the flavors of the city.
In case you're planning a dinner or two, here's the list of spots that we're eyeing.
Band of Bohemia has been on our mind since it opened with brunch, tasting menus, and creative beers brewed on site. As the first Michelin-starred brewpub, this culinary brewhouse brings a creative vibe in an approachable style to diners with items like Sweetbreads and Waffles, Eggplant Naan, and Cocoa Parisian Gnocchi.
Big Jones is another inspired spot that offers unique ingredients with a side of southern education. Brunch is a winner, as is lunch, but whenever you choose to go, make sure you have the time to soak in the recipes that have been passed down and refined over the years, especially the fried chicken, hen and hominy, and rutabaga bisque.
If you are looking for something a bit more international, Passerotto may be your best choice. Led with the mantra of fun Korean fare, this spot mixes Korean food with Italian touches in a way that is modern and original. The menu hosts a rotating list of raw choices, small bites, noodles and sharable platters paired with seasonal banchan. We have our eye on the king trumpets, ddukbokki lamb ragu, and cantuccini.
If we're lucky, you may find us at Parachute eating some bing bread or a mung bean pancake. And if the weather is nice, we'll most definitely find time to relax in the backyard at Honey Butter Fried Chicken where we'll order a housemade iced tea, a plate of fried chicken with an extra side of honey butter, roasted garlic grits, and a muffin pack to share. Machine is another reservation we may try to snag for a bite of the burger, at the least, and flowers to go. Why not? It's about the experience, after all.
We're off to grab reservations, but anxious to know where you land. Even better, send us a note and we'll find some time to chat about your sightings and share some of ours.
See you soon!


Bo Chhay
Manager, Insight & Communication
Custom Culinary, Inc.