Business Building Ideas:
The Next Sriracha?
Nov 12, 2014
November is National Pepper Month, thus I thought it would be a goo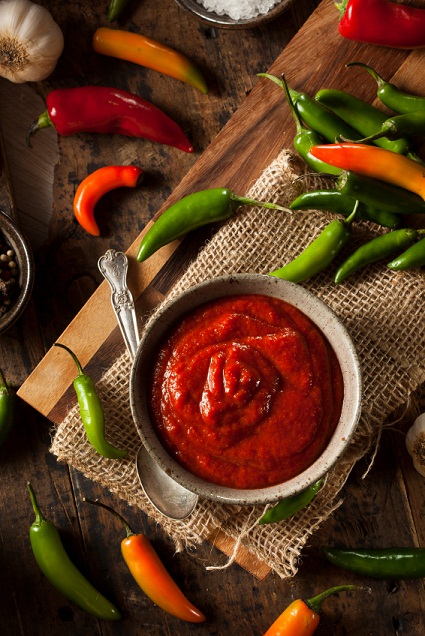 d time to check out what is spicing up America's menus. According to Quartz online news, the U.S. hot sauce market has grown 150 percent since 2000. One of the drivers has been the popularity of Sriracha. According to CCD Innovation, Sriracha is now (2014) what chipotle was back in 2009 popping up on menus across the industry thanks to consumers growing preference for pepper flavor and heat. Now challenging Sriracha are jalapenos. Chicago –based research company Food Genius reported that jalapeno mentions have grown 3 percent on menus across all segments this past year.
Operators are capitalizing on the consumer trends, but also are aware that hot sauces are low in calories. Consequently they realize that hot sauces add flavor and zest to their low calorie menus.   Fast Casual chain Firehouse Subs introduced its under 500-calorie menu earlier in the year that featured a Sriracha Beef submarine sandwich. On the West Coast, Souplantation and Sweet Tomato restaurants developed a Sriracha Ranch dressing for their salads, but also introduced earlier this fall a Sriracha slaw made with shredded bok choy and green cabbage.
A couple of weeks ago I posted about an upcoming trend Advanced Asian. One great Asian sauce with heat that our Culinary Team developed is a Gold Label Spicy Red Pepper Sauce, a unique puree-style sauce made with African birds-eye chili peppers, roasted red peppers, red onions, pineapple and fresh lemon. The end result is a delicious balance of sweet and heat. Makes for a great Spicy Sautéed Shrimp entrée your guests will rave about.  Hot! Hot! Hot!
So what is going to be the next Sriracha? An alternative pepper like Poblano? Please let us know your thoughts. Be True To The Food.

Joe Beitzel
Director of Channel Marketing
Custom Culinary, Inc.