Business Building Ideas:
Disruptive Foodservice Delivery
Nov 17, 2015
Last week I read that Amazon is rapidly expanding their restaurant delivery service. Prime Now first debuted back in September in Seattle, then Portland and L.A. On Friday they announced that they will continue their national expansion throughout the remainder of the year and the first quarter of 2016. The service charge via their one-hour delivery is $7.99, free two hour delivery. Long-term the service will make their Amazon Prime membership ($99 per year program) more attractive.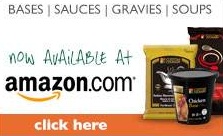 Restaurant delivery service is already a crowded space. Both Technomic and Mintel recently published their 2016 Trends Lists and project the Delivery Revolution, thus a dominate consumer trend, the demand for convenience and immediacy. As evident by Amazon's move, look out for a proliferation of order and pay apps, third party online ordering and delivery services. "Dining In" will be on trend, "Dining Out" potentially a dinosaur.
On the topic of Amazon – our online Amazon venture has been a success. We are looking forward to robust sales over the holiday season. Friendly reminder: click here to see our great lineup of products. More importantly 20% off on all items.   

Joe Beitzel
Director of Channel Marketing
Custom Culinary, Inc.