Flavor Inspirations:
Tropical Asian Heats Up!
Jul 06, 2017
America is the true melting pot. In today's food world, we have access to almost any flavor or ethnically driven delight we desire. Increased global travel, the Food Network Effect and the shear diversity of our population have all played a part in this celebration of global foods, ingredients and flavors.
In my opinion, the first true ethnic flavor to come onto the food scene in America goes back to the early 50's when Chinese Chop Suey houses began cropping up in cities across America. For you movie buffs… Who can't forget the ending scene in the Christmas classic, 'A Christmas Story'? [Spoiler Alert] When after having their "All American" turkey dinner ravished by their Bumpus Hound, Ralphie and his family enjoy Peking Duck for their holiday feast. Albeit Americanized Cantonese style food it was the genesis of America's love of global cuisine.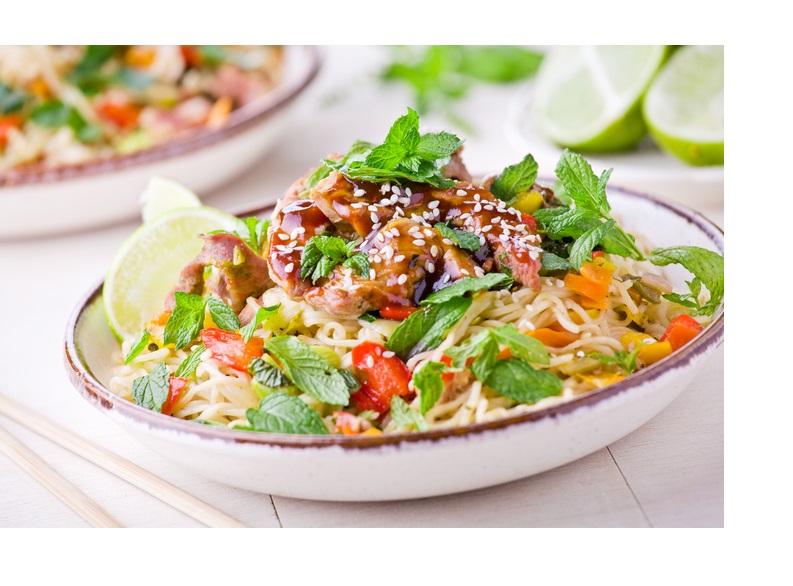 We've come a long way since then. Foodies are definitely more educated and have awareness and expectation of hyper-regional global cuisine, and Asian is no exception. Of late, the foods inspired by tropical Asian destinations are heating up "pun intended". Tropical Asia is rich with unique edible resources inspired by its climates, unique geography and historical influence. From the countless uses of coconut, to unique spices, chili's, citrus and intoxicating aromatics like lemongrass and galangal—the flavors and creative dishes that can be crafted are endless.
A few examples of my faves include Sate Lili, which is minced meat (pork, fish, or chicken) spiced and wrapped around bamboo or lemongrass stick and grilled on charcoal from Indonesia. If you want to have a food festival in your mouth try Cambodian Lap Khmer, a refreshing dish prepared with thinly sliced beef that is either quickly seared or "cooked" ceviche-style by marinating with lime juice dressed with lemongrass, shallots, garlic, fish sauce, Asian basil, mint, green beans and green pepper. This sweet and salty dish also packs a punch in the "spicy" department with copious amounts of fresh red chili's.
Another fascinating offshoot of this latest food focus is how it plays so well into the previous trends we have highlighted so far. Bowled Over and Plant Based Power (which we highlighted in our April 7th blog), are great examples. Even specific ingredient trends can be attributed to the Tropical Asian realm. Look at Sriracha as an example. This simple ingredient has been so infused into the American diet it's almost as common as tomato ketchup. If you haven't already, take a look at our Authentic Voice Trends Profile on May 5th which focuses on Sriracha 2.0. It's a great read and compliments this topic perfectly.
The bottom line is that Tropical Asian Foods are making their mark in a big way. It's probably far more accessible than you think. On a recent FlavorIQsm event in Orlando, our team wanted a quick bite between sessions. A quick Google search alerted us to over 12 great Asian spots within a mile. We settled on a little Vietnamese Pho Shop which offered some of the best Pho I've had outside its country of origin…And that's saying something!
At the end of the day whether you're trying to create a classic offering, a street inspired indulgence, or fusion smash that celebrates Tropical Asian flavors, your Chefs at Custom Culinary® are there to help. Regardless if it's our Ready-to-Use Gold Label Thai Style Red Curry, or one of our customized Pho concentrates, we are confident we can help you create great eats that help you "Be True to the Food".
Chat soon! But in the meanwhile, have FUN exploring the exotic flavors of Tropical Asia!

SPOTLIGHT
Harness the power of umami to create menu items that are savory, craveable and rich in complex flavor. Commonly referred to as the fifth taste, umami describes the mouthwatering "meaty" quality of such ingredients as aged cheeses, roasted tomatoes and mushrooms, miso, soy and fish sauce. The flavors we perceive as umami indicate the presence of glutamates (amino acids) and ribonucleotides in that particular ingredient. While low levels of these compounds occur naturally in many raw foods, cooking techniques that break down proteins and glutamic acid intensify the effect of umami. And because umami counterbalances saltiness, operators can incorporate umami-packed ingredients as a way to create healthy, delicious dishes that are lower in sodium and calories.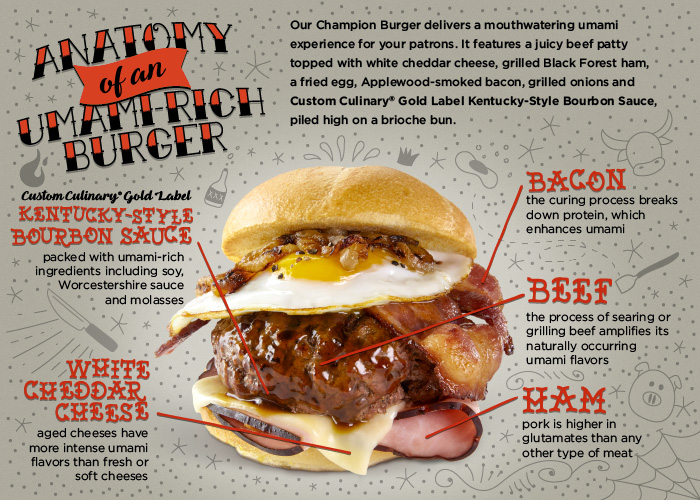 Sun-dried tomatoes. Roasted mushrooms. Bacon and onion jam. These are just some of the ingredients that bring the "wow" factor of umami to dishes across your menu. Get inspired with our on-trend recipes!
  RECIPES featuring Custom Culinary®

 

branded products
Cheese Tortellini with Prosciutto Alfredo Pesto
Bold flavors shine in this creamy pasta dish, bringing an unexpected element of sun-dried tomato pesto to the forefront. View recipe

Bacon, Onion and Fig Croque-monsieur
This take on the classic French sandwich showcases our versatile Gold Label Bacon Onion Marmalade. View recipe

Garlic Grana Padano Chicken Wings
Put an elegant spin on the game-day staple with these seasoned grilled chicken wings. View recipe

Pulled Pork and Bacon Waffles with Wild Mushroom Red Eye Gravy
Capitalize on the savory waffle trend with this unique breakfast or brunch dish. View recipe
  MENU INSPIRATION featuring Custom Culinary®

 

proprietary products
Roasted Gochujang Wings
Double-fried chicken wings are dressed in savory, spicy Custom Culinary® Gochujang and Yellow Miso Sauce and topped with fried sliced garlic and green onion. Served with additional gochujang-miso sauce for dipping.

Pasta Puttanesca
Al dente spaghetti tossed in a rich Custom Culinary® Tomato and Kalamata Olive Jam, finished with freshly ground black pepper and grated Parmesan.

Savory Porchetta Sandwich
Pork belly rubbed in Custom Culinary® Black Garlic and Balsamic Vinegar Glaze and herbs, then rolled, roasted and thickly sliced, served on toasted ciabatta with shaved ricotta salata, sautéed broccolini and a cherry mostarda.

Pork Bolognese Flatbread
Herb-brined pork shoulder, braised in Alfredo sauce, then pulled and piled on crispy flatbread with fresh fennel, roasted grapes, chopped Italian parsley. Finished with a Custom Culinary® Black Truffle and Honey drizzle.
---
CUSTOM CULINARY® FEATURED PRODUCTS
 From savory bases to completely customized glazes and sauces, we offer a wide range of products  that bring complex umami flavors to your menu items with ease. 
BRANDED PRODUCTS

PROPRIETARY PRODUCTS

Black Garlic and Balsamic Vinegar Glaze

Kalamata Olive and Tomato Jam

Gochujang and Yellow Miso Sauce

Black Truffle and Honey Spread

Sweet Corn and Parmesan Spoonbread 

*Products are customized; please contact your Custom Culinary® representative for more information. 
---

AUTHENTIC VOICE
In his latest blog post, Richard Reilly, CEC, AAC gives a rundown of the most  umami-packed ingredients, along with his favorite Custom Culinary® products that can help you capitalize on the trend. Read more
---
| | |
| --- | --- |
| | FlavorIQ® from Custom Culinary® is a revolutionary approach to product development. Our four-step process delivers fast, intelligent menu innovations to meet your needs. Click here to learn more about Custom Culinary® and FlavorIQ®. |