Flavor Inspirations:
Soup-er Nourishing
Aug 04, 2017
I'm a passionate person. If you ask anyone who knows me they will tell you that regardless of the topic, if I'm a believer, you'll know it. I got involved in the food industry at a young age because I have a passion for food. My wife often "jokes" when she hears me talk about food, "that I like it a little bit too much". Too be honest, I think she is referencing more of my growing waistline, but that's another subject.
Thankfully for the majority of us, food is much more than just fuel. Food is emotional, social, and, above all, comforting. One of the biggest "craves" out there is food that fills the comfort food niche [with or without a twist]. Comfort food to each of us is different. Whatever brings you back to your childhood, home life, culture and upbringing becomes your comfort food. One of the most compelling comfort foods, and one that touches to some extent everyone, is a hot bowl of wholesome and nourishing soup.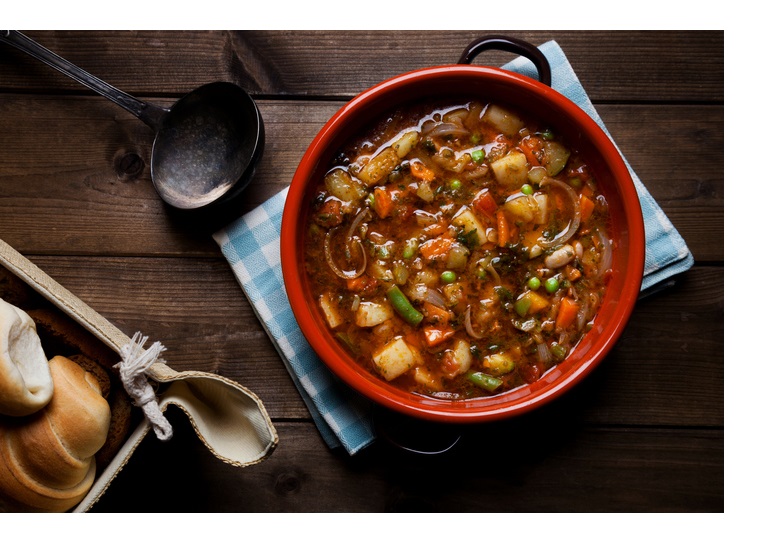 A significant trend today as it relates to soup is the realization that bone broths offer healthful goodness. Bone broths are fantastic, soothing, nutrient-dense additions to your menu. They're extraordinarily rich in protein, high in gelatin, and they also contain trace amounts of minerals like calcium and phosphorus.
Another trend out there is America's love of truly authentic globally inspired cuisine. Every ethnicity on earth offer soup in some form or fashion. In Asia, emphasis is placed on stocks and broths made from fish and fish bones, as well as beef bones for popular soups like Korean bone soup. In Europe, stocks and broths have become the foundation of cooking, and are used in not only making soups and stews, but also for preparing reductions, sauces and for braising vegetables and meats.
One of my personal favorite ethnically inspired soups is pozole. Pozole is a traditional soup from Mexico, which once had ritual significance. It is made simply from chilies and hominy, with meat [typically pork]. Beyond just being good eats, one of the reasons I love this soup is that it is classically served with a selection of fresh garnishes like shredded cabbage, chile peppers, onion, garlic, radishes, avocado, salsa and limes. This allows you to interact and personalize the dish to your liking with a host of delicious freshness cues.
Another one of my favorites is a fresh hot bowl of pho. Pho is a Vietnamese noodle soup consisting of broth, rice noodles [called bánh ph?], a few herbs, and meat, primarily made with either beef or chicken. Pho is a popular street food in Vietnam and the specialty of a number of restaurant chains around the world. Pho originated in northern Vietnam, and was popularized throughout the rest of the world by refugees after the Vietnam War.
The broth that makes Pho unique is intoxicating. It is a rich beef or chicken bone broth seasoned with fragrant aromatics infused with hard brown spices like cumin, star anise and cloves.
Custom Culinary®, as always, stands ready to help you create these great comfort offerings. Our new line of True Foundations™ bases are truly wholesome, and give you the ability to prepare endless creations for your menus. On another note, we will soon be launching a new line of Pho and Ramon Broths, in a ready-to-eat format that I would personally put up against any of the best made [in their respective countries of origin].
As I said on the front end, food is and should be much more than just fuel. It is part of a socially rich and satisfying life.
Until next time, enjoy life and take pride in creating food that makes people emotionally connected.

Michael Minor, CEC, AAC, HGT
Culinary Ambassador
Custom Culinary, Inc.