Flavor Inspirations:
Holiday Bar Bites
Dec 20, 2017
Last minute shoppers, office co-workers celebrating the holidays, sports enthusiasts, etc. What a great time of the year for restaurant owners to capitalize on increased guest traffic counts (a.k.a. people out spending money and having a good time). One way is to develop special food and beverage holiday items that are different from your current menu well suited for your bar guests. Back in early November we posted Craft + Cocktail + Cuisine including consumer preferences for on-trend classic cocktails – Moscow mule, margaritas and Bloody Mary's. We even shared recipes showcasing popular alcohol flavors. My personal favorite being Tequila Citrus Chicken. However, some of your guests might not make it from the bar to the dining room. Consequently, a great way to make extra margin is to offer some unique bar bits. Below are some suggestions from our Culinary Team.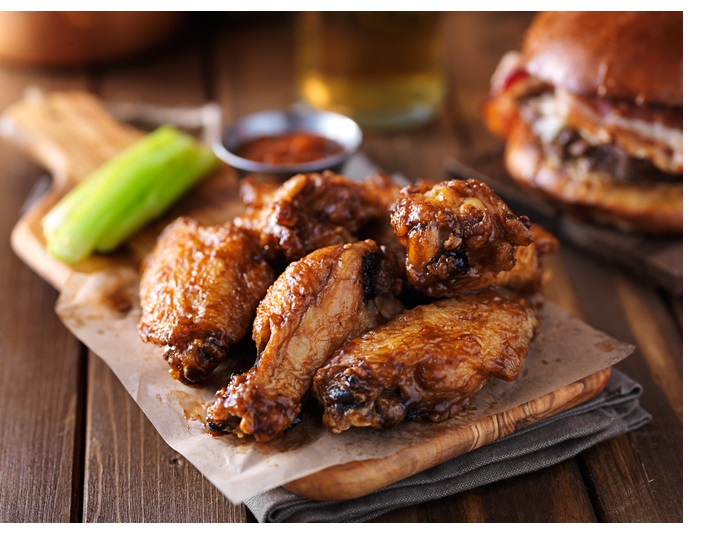 Chicken Wings – Chicken Wing Trivia: The National Chicken Council estimated that Americans ate 1.33 billion chicken wings during the 2017 Super Bowl weekend. Regardless of the NFL's special event, chicken wings, without a doubt is one of America's favorite bar foods. The best way a restaurant owner can differentiate themselves and attract crowds is to menu some different style wings. A few of Custom Culinary® favorites are our Kentucky Bourbon Glazed Chicken Wings or our Thai Sriracha Lime Sweet Chili Glazed Wings.
Asian Bar Bites – Above we mentioned Thai-style wings. Check out our recipe section for other Thai bar bites that are popular like Thai Roasted Peanut Lettuce Wraps or a Thai Roasted Peanut Appetizer Platter. Perfect for a large party!
Sliders – Sliders paired with a special Christmas beer is a popular bar food. Menu something different, Latin Pulled Pork Sliders. Sounds fusion if the Christmas beer is German.
Happy Holidays from the entire team here in Lombard. Be True to the Food®.

Joe Beitzel
Director of Channel Marketing
Custom Culinary, Inc.