Flavor Inspirations:
The Growing Potential of Ponzu
Feb 14, 2018
Americans love Asian cuisine. To be exact, 60% of consumers do, according to Datassential. And if you pull back the focus a bit, the percentage of those that know the cuisine jumps to nearly 90%. As Asian cuisine has infiltrated tables and hearts, it has brought flavors, ingredients and spices that are worth knowing along with it. Ponzu, a tart Japanese dipping sauce made from soy sauce, yuzu  juice (citrus fruit), rice vinegar, and katsuobushi flakes (from tuna), is one that rates high on the list.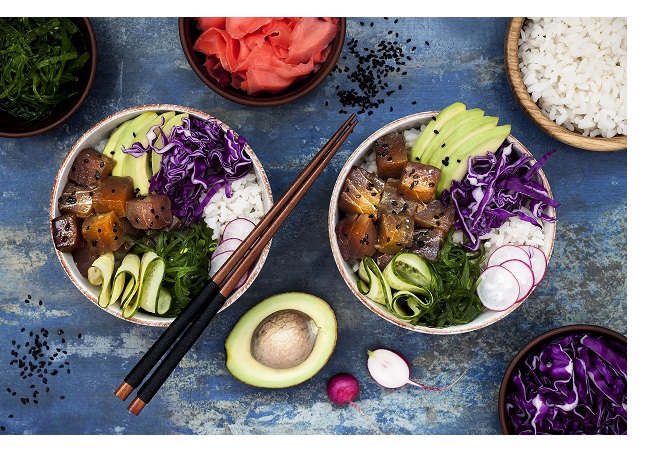 According to Technomic, the penetration of Ponzu Sauce has increased by 1.4% over the last 5 years, calling out the opportunity for menus. Datassential also reports on the opportunity, revealing a 12% growth over the last year and over 28% over the last 4 years. While only 6% of consumers claim to love Ponzu, the opportunity to grow this affection may be a simple exercise of comparing the commonalities with other craveable flavors. For instance, it is most often presented as a dipping sauce. Offering familiar appetizers, such as spring rolls, pot stickers and crab rangoon, alongside the sauce is a smart start. From there, consider the signature tartness of the flavor as tart flavor profiles are not only craveable, but a consumer favorite. Pair with a complementary flavor profile, such as a sweet note or a kick of umami, to finish out the experience.
Earning its weight in versatility, Ponzu has quickly expanded beyond Asian menus to other menu types and segments. Fast casual, midscale and upscale casual are all candidates to showcase applications that range from a marinade, dipping sauce, dressing, vinaigrette, or glaze. And as with all great flavors, inspiration knows no bounds. Topping pizzas, varied proteins, salads and sushi, Ponzu is rapidly discarding any limits that may have held it back.
While Ponzu still remains in the inception phase of Datassential's Menu Adoption Cycle, the quick jump beyond the traditional cuisine in which it historically presided indicates that it will be moving along the path much faster than those that surround it. Consumers will drive this movement, of course, but signs point to repeat trial.
From universities to commercial restaurants, ponzu has made an appearance on many menus.
Washington State University featured the ingredient in a 2017 event, Around the World in 8 Dishes, with an Ahi Togarashi dish, served with sushi rice, pickled cucumber, citrus ponzu, chive and chili oils and radish sprout. f?•nix, a regional American eatery in Lodi, CA, menus a ginger ponzu broth to elevate the pan roasted albacore with stir fried vegetables and crispy fried garlic. Kemuri Tatsu-ya in Austin, combines Japanese and Texan cuisines to delight guests and form lines with their smoked and barbecued items. While brisket plays an important role on the menu, it's the smoke itself that lends flavor to their silky duck breast that is then delicately flavored with orange ponzu.
Custom Culinary® Gold Label Wasabi Ginger Ponzu Sauce makes it easy to add the Ponzu flavor profile to any menu. In our version, we bring together a versatile glaze-style sauce with lemony ponzu soy sauce, fresh ginger and just the right balance of wasabi horseradish.
Interested in playing with this powerful flavor profile? Here are some recipes to try today!


Bo Chhay
Manager, Insight & Communication
Custom Culinary, Inc.