Flavor Inspirations:
The Flavor of Chipotle is Still Growing
Feb 22, 2018
According to Daily Mail, the word chipotle is on the list of food words that consumers struggle most to pronounce. But even still, this craveable ingredient has moved onto plates fairly quickly and has hung on, creating fans and followers in the process. We might be able to thank Chipotle, as in Chipotle Mexican Grill, for bringing so much attention to chipotle, the ingredient. It wasn't too long ago that the dried and smoked red chili made an appearance on top trends lists and now we can confidently say that chipotle is a mainstream ingredient. Plus, menu growth has continued, pushing the profile further into a state of ubiquity, alongside avocados, banana peppers and other equally recognized flavor profiles. From entrees, to snacks, to beverages, chipotle has a home on our shelves and on the menu.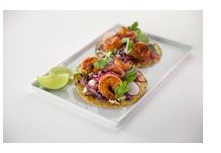 In the last ten years, chipotle has moved onto menus at a growth rate of 72% and is currently represented on nearly 30% of menus, according to Datassential. With steady and consistent growth along the way, we can easily say that this smoky and spicy ingredient is not only here to stay, but is ready to move beyond the standard fare and core audience. Even more, now that the core audience is convinced, there is an opportunity to ask an even broader group of consumers to give it a try.
We've got a good start. In fact, around 35% of consumers already love the flavor and nearly 80% know of it. That's impressive. While today, chipotle's core consumer is a Hispanic millennial male, we know that Gen X and Gen Z are coming in right behind, offering a lot of room and a wide audience span in which we can expand. Our opportunity is to introduce the flavor in unexpected places, in new menu applications and to audiences that may have not been drawn to it in the past, particularly females. So, how do we begin? Perhaps we look to the menu inspiration that is already in the marketplace.
Starting with a familiar item that we already know and love is a proven approach to introducing new flavor profiles. For instance, Eat'n Park Restaurants introduced a Chicken Quesadilla with a chipotle sauce drizzle as a limited time offer in December. And in November, Moe's Southwest Grill added a Chicken Bacon Avocado Bowl with chipotle ranch dressing as an LTO option. California Pizza Kitchen started with a favorite base of indulgent Macaroni and Cheese and gave it a chipotle kick in their Chile Braised Short Ribs & Chipotle Mac N Cheese. Whichever way you choose to introduce or expand a flavor, giving it a strong foundation is still important.
Independent restaurants have a bit more permission to get creative. Often their customer base expects it. For instance, at Deke's Bagels in Niantic, CT, a chipotle pepper cream cheese with the spicy kick of real, visible chipotle peppers is offered as a bagel schmear. At 'Table (short for vegetable) in Seattle, a cup of Shiitake Mushroom Chili packs flavor and smokiness as a result of the chipotle adobo. And at Gloria's in Dallas, TX, their classic Signature Margarita can be ordered as a Spicy Pineapple version. According to Paper City Magazine, "the pineapple chipotle flavor is a taste unlike anything you've ever tried."
How do you add the authentic and true flavor of Chipotle to your menu? Around here, we start with our Custom Culinary® Master's Touch® Chipotle Flavor Concentrate. This versatile product features a delicious blend of smoky chipotle peppers, onion, garlic and authentic spices and is perfectly suited for adding into your signature sauces, soups, dressings, spreads, entrees, sides and more.
Some of our favorite recipes, including Char Grilled Chipotle Shrimp Tacos, Chipotle Mango Ice Cream Sundae and Jive Turkey Burger, can be found in our recipe library.


Bo Chhay
Manager, Insight & Communication
Custom Culinary, Inc.