Business Building Ideas:
Gluten Free Update
Jan 28, 2016
Recently, Mintel reported that 47 percent of consumers they polled, believed gluten-free diets are a fad, up from 31 percent back in 2013. However, despite skepticism, sales of gluten-free products continue to soar. Mintel's findings revealed that 25 percent of consumers surveyed said they sometimes consume gluten-free foods, a 67 percent increase from 2013. Note: Overall the category has grown 136 percent since 2013. Two other key findings published by Mintel were: A.) Consumers perceive foods with "free-from" claims are healthier and less processed; and B.) 26 percent are willing to pay more for gluten-free foods.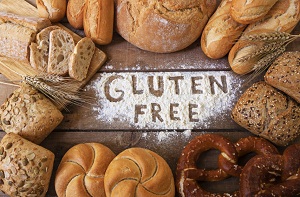 Our team's take away? Trend! In recognition of the robust sales of gluten-free products, our team believes food-away-from-home represents an opportunity to ride the second wave of America's demand for gluten-free foods.  Consequently, we have a few suggestions for your current menu to accommodate guests seeking gluten-free options.
Side Dishes – Both commercial and non-commercial operators are always looking for innovative side dishes.  Here are two your guests will rave about. Curried Brown Rice and Apricots , Very healthy! Savory Roasted Vegetables. By now everyone knows that veggies are a great gluten-free option.
Salsa – Our team has developed numerous salsas. They make for a great side, as well as a topping on your favorite sandwiches, burgers or even entrees like fish. One of our chefs' favorites is Pineapple Mango Salsa. Checkout our recipe section for more great salsa recommendations.
Burgers – Get yourself a good gluten-free bun and top off your burger made only with ground beef with our Caramelized Onion Sauce and you will have a winner.
More and more operators will be menuing gluten-free items in the future. Why wait? Get aboard the gluten-free train and remember, Be True To The Food. 


Joe Beitzel
Director of Channel Marketing
Custom Culinary, Inc.