Flavor Inspirations:
The Magic of Italian Cuisine
Feb 22, 2016
                                  

 The Diversity, Beauty and Bounty of Italian Cuisine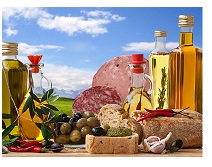 When we think of Italy, our minds become filled with visions of beautiful country sides; grapes and olives cover the hillsides, while rows of tomatoes, eggplant, zucchini, squash, and fresh herbs fill the rolling fields. As we research past, present, and future trends; Italian and Mediterranean cuisines consistently find its place atop the food trend ladder, usually before or after comfort food. Imagine that! With 20 regions delivering unique foods and flavor, there is something for every palate.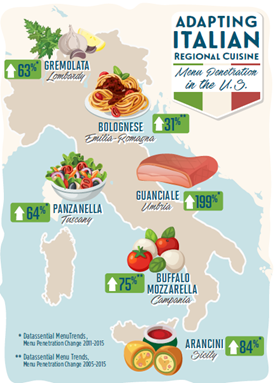 The color, flavors, and aroma experienced while traveling the vineyards, visiting the open markets with their wide array of fresh produce, herbs, seafood, fresh and smoked meats, and sausages is enchanting. Urban settings and local culture enhances your palate and creates an emotional dining experience; while sampling various regional cuisines marketplace, cafes', street foods and "Cucinas". With an explosion of flavor, freshness, textures and warmth from a glass of succulent Chianti, you experience Italian culture and food in a wholesome way.
The 20 regional players that make up Italian cuisine are now somewhat blended with modern agriculture, transportation and cross regional sharing of ingredients. As a youngster, my experience, as most of us had, was the local family owned Italian restaurant with its red and white checked table cloth, heavy garlic scent lingering in the air, heaping bowls of spaghetti with meat sauce, meatballs, linguini and clam sauce (red or white) and fettuccini Alfredo; maybe with shrimp. We now know that there is so much more to be recognized as Italian.  
We need to be reminded that tomatoes, peppers, potatoes, zucchini, and beans came to Italy by way of the New World in the 18th century. The arrival of these new ingredients dramatically grew the Italian pantry, and established what we refer to today as "Modern Italian" cuisine. Remember, Italy was only created as a nation in the mid-19th century which officially combined all the regions in the kingdom. What a wonderful collaboration of regional foods!
Northern Italy was influenced by German, Austrian, and Swiss flavors and cooking methods, while the South drew much from Greek and North African flavors. The north preferred rice and polenta as a carrier while the south reveres pasta. My experience coming from a heavily Italian populated town is that Italians prefer to enjoy the flavor and texture of pasta itself, and only lightly sauced.
From comfort to eclectic, Italian cuisine and its regional diversity touches all people and appetites. Buon Appetito!

Scott Gilbert, CEC, AAC, HGT
Director of Culinary
Custom Culinary, Inc.