Business Building Ideas:
Chili Queens
Feb 24, 2016
Tomorrow, February 25th is National Chili Day, hence I thought it would be fun to write a post about chili. A quick Google search revealed that there are numerous tales and myths about the origins of chili. Consequently, for this post I thought I would start with a known fact. In the 1880, a food market in San Antonio set up stands that sold bowls of chili or o'red; a hash like combination of various slow cooked meats, peppers and onions. The stands were operated by women known as "Chili Queens" – according to one source a bowl sold for ten cents. Included were a slice of bread and a glass of water.  What a deal!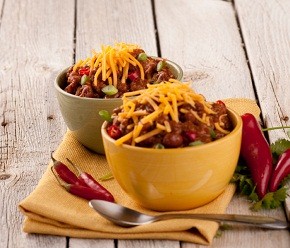 When was the last time you bought a food item for ten cents! Throughout the 1880s the dish gained popularity and became a major tourist attraction. In 1893 it was featured at the World's Fair in Chicago at the San Antonio chili stand.   
Fact: Former President Lyndon B. Johnson was a huge chili lover and his favorite recipe (named after his ranch Pedernales River) was made with venison which he thought was leaner than beef. If you are looking for an alternative to beef which is leaner, checkout our Tex Mex Turkey Chili  or White Chicken Chili Our team is proud of their chili recipes. A good bowl of chili makes for a hearty special during the final days of winter. Nothing quite beats a classic Chili Con Carne. Our recipe calls for ground beef. 
Happy National Chili Day!