Flavor Inspirations:
Smoke 2.0
Apr 21, 2016
It's time to fire up your menu offerings with a bit of smoke! Smoked peppers, barrel-aged liquors, and charred salsas are just a few of the ingredients that can be used to incorporate burnt or roasted flavors into unconventional menu items. Beyond classic center-of-the-plate items such as smoked fish or barbecued meats, smoky flavors will drift into desserts, beverages, salads and more.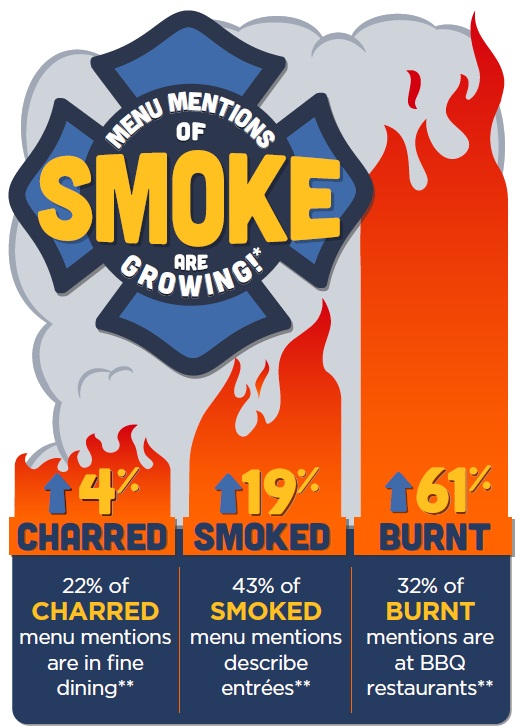 Smokey flavor and food, they kind of go together like peanut butter and jelly, it's just natural! What started out as a means of preserving food for the sake of simple survival has turned into a chic trendy obsession that goes far beyond smoked ham hocks and BBQ."Smoke and food" is one of my favorite culinary topics. I am excited to take a deeper dive in to the Smoke 2.0 trend and share my insights.
I remember reading an article some time back in the Washington Post about energizing simple sides as a point of differentiation. The one that struck me the most was Hay Smoked Mashed Potatoes. It was a relatively simple execution, yet it created such an interesting and alluring concept that could easily become a "destination item" for the right casual dining chain.Restaurant patrons today crave bigger, bolder flavors in their menu choices. No doubt, smoke definitely surpasses expectations in providing that. Smoke, a child of fire, definitely lights up menu options. 'Smoked', 'Charred' and 'Burnt' are some of the techniques which can be considered to add a savory flavor to your food. One of the best attributes of this broadly appealing accent is that it transcends almost all food segments from fast casual dining to the finest white table cloth restaurants in the world, and spans the entirety of the menu from an Amuse-bouche through Dessert.
Another obvious classic that uses the flavor of fire would be that of the S'more. Regardless of your age, a S'more is undoubtedly one of the most beloved confections known to man. The facet I find most interesting about the S'more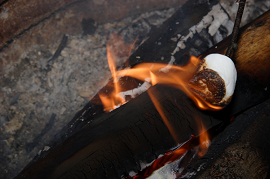 is the varied level of "burnt" people like on their marshmallow: ranging from lightly caramelized to downright carcinogenic. That said, imagine ramping up this simple fireside sweet in the form of a napoleon, layering caramelized marshmallow and smokey bourbon hot fudge between graham crackers. Garnish the dish with a dusting of marshmallow ash, and you have effectively elevated this sweet to the heights of creative greatness.
The key in my opinion to great food "flavored by flame" is not to overdo it. What I mean by this is that you want the smokiness to accent, but not overwhelm your palate. I was recently charged with creating a nine course menu, all of which focused on smoke. What I learned was that you must exercise discipline in your execution in order for you to go from amuse-bouche to dessert without making your guest feel as though they just smoked a bad stale cheap cigar.
The good news, when properly planned, it is truly a sensational experience that delivers all one would expect from an exquisite meal: fun, creativity and a unique flavor sensation.
Regardless of what segment you cook in, there have been many cool and relatively new equipment innovations that allow you to deliver this uniquely delicious flavor to your menu. The Smoking Gun developed by Poly Science is a great example.
I hope this has helped put a flame under you to get to the kitchen, have some fun, and explore this age old way to add flavor to your menu in a modern and traffic driving way.

Michael Smith, CEC, AAC
Corporate Executive Chef, Segment Sales
Custom Culinary, Inc.