Business Building Ideas:
Pizza USA
May 03, 2016
Early in the month Technomic released the findings of its 2016 Pizza Consumer Trend Report. I am not surprised given what I have been observing when my family dines out, pizza consumption continues to be on the rise. Pizza is trending at its highest level in four years. The average consumption per consumer is up from 3.4 occasions in 2014 to 4.0 occasions in 2015. Technomic's consumer insight group indicated that in order for operators to remain competitive, they must innovate and adapt since consumers are less beholden to standard pizza orders. According to Technomic, 39% of consumers now order unique toppings, up from 32% two years ago. This is particularly true of the emergence of Fast Casual pizza concepts (e.g., Blaze, MOD Pizza, etc.) that offer hand crafted pizzas with artisanal toppings in unique atmospheres and at an affordable price. Great service too! Who can beat that!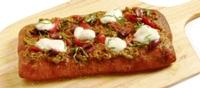 Our team in recognition of the rise in pizza has developed several signature pizza recipes. One very popular recipe is our Asian Flatbread Pizza made with our Gold Label Wasabi Ginger Ponzu Sauce. Another pizza recipe we recommend with an ethnic twist is our Latin Citrus Chili Flatbread Pizza. Turn up the heat, take out the fire extinguisher! Looking for something a little more traditional, closer to Mediterranean in style, try our Rustic Chicken Focaccia Pizza.
Pizza is a very versatile menu item. It can be served as an appetizer or entrée. Our recipes also work well if you have a special bar menu. More importantly, pizza is a highly profitable menu item margin wise. So if you and your staff are looking to take your pizza game to the next level, feel free to contact us and remember Be True To The Food.   


Joe Beitzel
Director of Channel Marketing
Custom Culinary, Inc.