Flavor Inspirations:
Hawaiian Hits the Mainland
Jul 20, 2016
With influences from Polynesia, Japan and the Philippines, Hawaiian cuisine is bright, bold and complex, and much of the Hawaiian culture is based on eating. As Hawaiian cuisine is moving across the mainland, adventurous patrons will be excited to try many newly-emigrated dishes.
And it's not just luaus, poi and Spam. Popular dishes called loco moco (white rice topped with a hamburger patty, a fried egg and brown gravy), and shoyu chicken (soy sauce–marinated chicken drumsticks with greens and macaroni salad) are staples.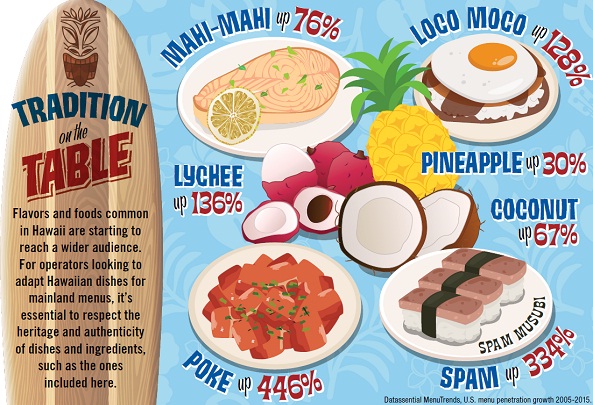 A few dishes and ingredients moving across the nation are Hawaiian and Japanese BBQ, including saimin noodles (thin egg noodles) topped with barbecued meat. You'll also find ingredients like mochi (a sweet, short-grain rice flour cake), pole beans, Chinese bacon and sausage, fermented black beans, pineapple and macadamia nuts.
Hawaiian-inspired food trucks are cruising around from L.A. to D.C., serving everything from hoisin-glazed ribs to Spam and kimchi-filled sliders to macaroni salad – some Hawaiian favorites!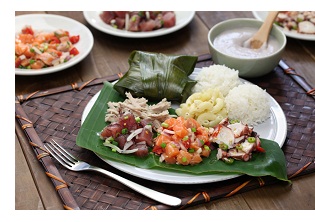 And, of course, the classic dish that's already making a splash with a wider audience is poke, a marinated raw fish salad often made from yellowfin (ahi) tuna. Expect to see it gain even more popularity across the mainland in 2016.
Poke has taken on many incarnations across the states – with eateries offering everything from the traditional raw tuna to seared shrimp, scallops and grilled chicken. I've even seen diced mango, jicama and tofu replace the fish to appeal to the vegan diet.
Poke can be served as an appetizer – shared or not (I don't share mine!) or as an entrée – served with noodles, and can be manipulated as the chef sees fit. Ingredients such as tobiko (roe), furkake (a bold-flavored condiment), coconut, macadamia nuts, wasabi and jalapeño can be added to create your signature poke.
Custom Culinary® offers several products that can be incorporated into your poke and other Hawaiian dishes. I love our Gold Label Wasabi-Ginger Ponzu sauce and our Gold Label Jalapeño Relish to name just a couple. 
As one of my new favorite cuisines and one of the hottest trends of 2016, you should plan on a Hawaiian adventure – even if it's just in your own kitchen!
Oh, and I'll see you at the tiki bar!
Mahalo 

Mike Speranza, CEC
Corporate Executive Chef, East Region
Custom Culinary, Inc.