Business Building Ideas:
Smart Caterer's Delight
Nov 28, 2016
The festive period between Thanksgiving and New Year's is acknowledged as a smart caterer's delight. To best capitalize on this window of opportunity, both commercial and non-commercial operators have to plan well in advance of the holidays to make sure they organize the proper resources (e.g., skilled labor, delivery options, etc.), marketing initiatives to connect with potential customers and specialized menus for a successful program. Seasonal items, like comfort foods, resonate with most customers, but given the range/size of events (office-based parties, ballrooms, private dining rooms, home-based, etc.), our Culinary team here at Custom Culinary® recommends caterers to be flexible, plus adapt to some of the latest trends – small plates, global flavors, and more.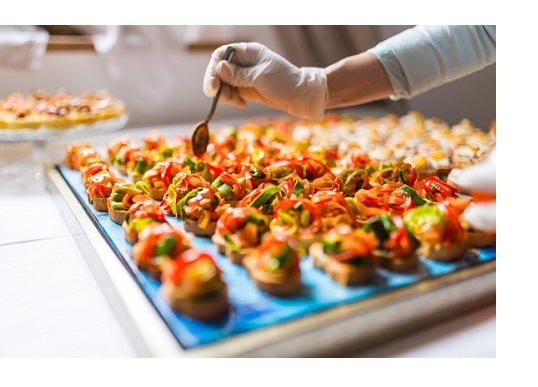 Small Plates – One of America's favorite small plates is chicken wings, a practical item for large parties. We have numerous recipes, but one our latest creations is Thai Sriracha Lime Sweet Chili Wings. Guaranteed they will heat up your office party.
Global Flavors – In our last post, our spotlight was on the Global Spice Market. We mentioned Harissa, thus recommend checking out our Harissa Infused Hummus Dip/Spread, which is a perfect complement to a vegetable crudité. Healthy, too!
A Dash of Indulgence – Catering customers' budgets vary, but we always recommend offering several higher end indulgent items to your menu, like gourmet burgers/sliders topped off with our signature Craft Toppings™. Most partiers like shrimp - wow them with our Chipotle Shrimp Tacos. Remember, one per person!
Need additional catering ideas? Visit our website. We also want to make smaller catering operations aware that all of our great products (e.g., Flavor Concentrates like Sriracha Lime, Chipotle) are currently available at our online store. Free shipping on all orders $50 or more. Enjoy your holidays and remember - Be True to the Food.

Joe Beitzel
Director of Channel Marketing
Custom Culinary, Inc.