Flavor Inspirations:
Lobster Bisque
Jan 26, 2017
National Soup Month is slowly coming to an end. We hope you have enjoyed celebrating it, but more importantly, found some value in our two earlier posts this month – January: National Soup Month and Low Sodium Soups. Today, I thought it would be fun to post about a decadent soup that is a favorite here in Lombard: Lobster Bisque.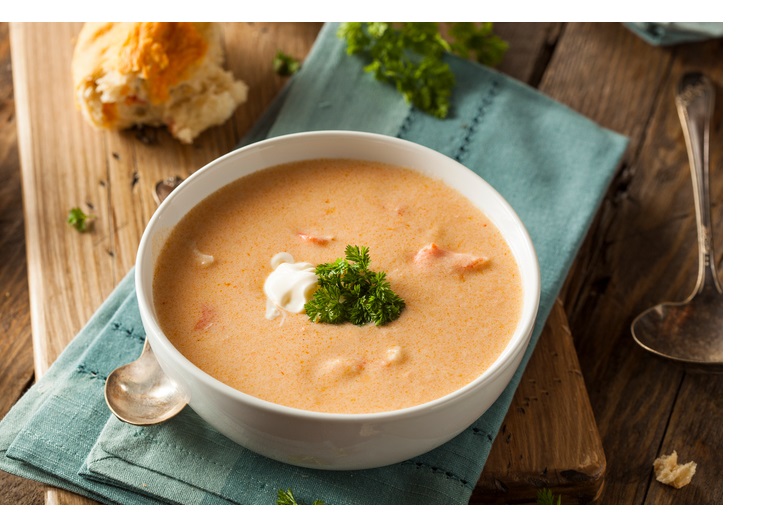 A Google dig (a.k.a. etymology) for lobster bisque indicated a link to a Spanish province that borders the western regions of Spain and France on the Bay of Biscay. The classic version of bisque is a strained broth known as coulis made from crustaceans (shellfish – lobster, crap, shrimp or crayfish). The term was coined because the classic version refers to how the shellfish is twice cooked (bis cuites). First, the shellfish is sautéed in their shells, simmered in wine and herbs, before being strained. Second, cream is added to the strained ingredients and slowly cooked. Note: The original versions of bisque were labeled a fisherman's food due to the use of the crushed shells. Very sustainable!
Our Culinary Team has developed numerous bisque recipes. Try our Gold Label Lobster Base (product code #9510). Or try our Whisk & Serve® Lobster Bisque Soup Starter (product code #1305) – heat some water, whisk in the starter and add cooked lobster meat. Voila! 
Lobster Bisque is a creamy soup, rich in flavor. As I stated earlier, a decadent treat for your guests. A great way to Be True to the Food.

Joe Beitzel
Director of Channel Marketing
Custom Culinary, Inc.