Business Building Ideas:
College & University Dining is a Segment to Watch
Oct 29, 2018
Generation Z has gone to college. The older set, that is. And as a generation that has grown up with an active Instagram feed and a plethora of dining options, let's say that they have high expectations. Higher-education foodservice is ready for them, and turning to food to draw this round of prospective students. In fact, most college brochures will feature the dining program to draw students in, and to help parents feel good about sending them.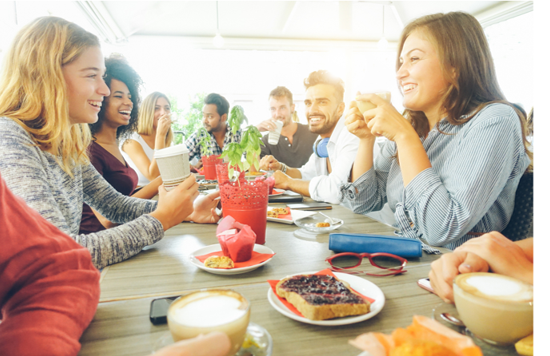 A quick glance at dining hall menus will include highlights of all the recent menu trends. Vegan, vegetarian, plant-based and gluten-free items, for example, but that's just the start. An $18 billion industry, according to Technomic, university dining halls are an important revenue stream. Keeping up with trending items is not only keeping the halls relevant, but with a present audience, they are able to innovate, gather feedback, and pivot quickly to keep their guests coming back for more. Much like today's hot food halls, campuses are serving everything from Latin fare, better burgers, bowls, and housemade sushi. Plus, with customizable options, and many dining occasions, there is no shortage of opportunity for menu innovation.
UMASS is one of the best in the business for serving healthy, sustainable, and delicious fare. They've gained a lot of recognition for their creative menus, innovative approaches to serving students, and have shown the industry the possibilities of a strategic culinary program. In fact, they were recently named number 1 in Campus Dining by the Princeton Review. They've even picked up a James Beard Award for their Mushroom Blended Chicken Tikka Slider.
The University of Hartford learned that their students love Fried Chicken Sandwiches and launched The Coop, a pop-up concept in their line-up of rotating concepts, and watched as sales increased more than 60 percent. All of the sandwiches start with their signature fried chicken which has been soaked in buttermilk and hand-battered to order using gluten-free flour and 12 different seasonings. Other free-from factors are called out, too, such as artificial colors, flavors, and preservatives. The concept brings fun names and creative builds to the menu, with options like the Southern Country Club, O.G. Clucker, East Meets West, and Where's Buffalo Again?
Georgia Tech Dining is another to watch. We keep an eye on their announcements by following along on social media where they share news of new concepts and invite students to give it a try and provide feedback. And most universities are taking this approach to connecting with their audience. With today's tech savvy audience, connecting with students in multiple ways is smart business. Food is social, after all, and connecting, sharing, learning, and adapting creates a model for fast innovation and even better menus.


Bo Chhay
Manager, Insight & Communication
Custom Culinary, Inc.