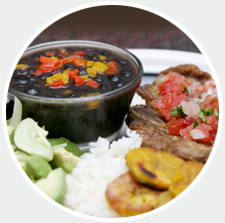 SPOTLIGHT
As foodies in the U.S. gain the opportunity to travel and experience Cuban cuisine firsthand, they're helping generate excitement about the country's delicious signature dishes and complex culinary history. Colonialism, revolution and geography have each played a major role in shaping Cuban cuisine. Ingredients that were once plentiful can be difficult to find today, and the preservation of authentic recipes is top-of-mind for chefs. Taking its influence from Spanish, African and Caribbean cuisine, Cuban fare is famous for slow cooking techniques that bring out rich, comforting flavors. The principles of Cuban cuisine can be applied to American menus, creating stews, braised meats, sandwiches and desserts with universal appeal.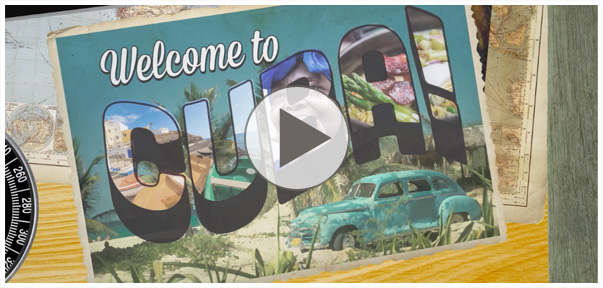 Join us in the kitchen with Raquel Black, chef-owner of Caribbean Corner, for an
exciting taste of Cuban cuisine in Downers Grove, Illinois. 


MENU INSPIRATION

Mariquitas de Desayuno
Griddled, chopped spicy breakfast sausage, tossed with green onions and served over fried tortillas and crispy plantain chips—topped with crumbled Cotija cheese, Custom Culinary® Cuban Mustard Sauce, lettuce, tomato and onion.

Mojo Criollo Pork
Mini bone-in pork shanks, fried crisp and tossed in a spicy Custom Culinary® Sofrito Base glaze, topped with chopped basil and served with Custom Culinary® Mojo Criollo Pesto.
CUSTOM CULINARY® FEATURED PRODUCTS
Custom Culinary® helps differentiate your menu with products completely customized to your needs. Here are some examples of unique items we can develop to bring the authentic taste of Cuba to your signature dishes.
Cuban Mustard Sauce
Garlic Mojo Marinade
Cuban-style Bean and Rice Seasoning
Sofrito Concentrate
Mojo Criollo Pesto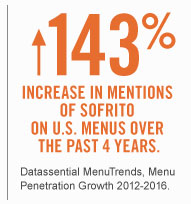 AUTHENTIC VOICE
Michael Smith, CEC, AAC
is smitten with the unique flavors, techniques and history of Cuban cuisine. Check out our blog for his tips and recommendations! 
View blog post »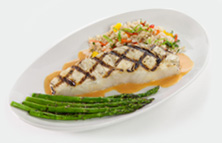 FlavorIQTM
 from Custom Culinary
®
is a revolutionary approach to product development. Our four-step process delivers fast, intelligent menu innovations to meet your needs.
Click here
to learn more about FlavorIQ
TM
.

Sources: "9 Dishes to Make You Fall for Cuban Cuisine," Saveur, February 22, 2016. Bob Krummert, "Cuban cuisine set to invade U.S.," Restaurant Hospitality, July 23, 2015. Colleen O'Connor, "Endangered Cuban cuisine preserved by cooks in America," The Denver Post, January 19, 2015.