SPOTLIGHT

Local seafood, rice and produce abound in Lowcountry cuisine, the signature fare of the coastal regions of South Carolina and Georgia. The estuaries are rich in marine life, making fresh shrimp, crabs and oysters the stars of many Lowcountry dishes. Frogmore Stew, for example, is a traditional Lowcountry seafood boil with shrimp, corn on the cob, sausage, red potatoes and ham. Benne (sesame seed) Oyster Soup, She-Crab Soup and Gumbo are also ubiquitous. The region's most important crop, long-grain rice, serves as the foundation for such iconic dishes as Hoppin' John, Pilau/Chicken Bog and Charleston Red Rice. Condiments play an essential role in Lowcountry fare, with pickled vegetables, relishes and chutneys served alongside meat and seafood. Okra, pears, peaches, figs, tomatoes and Jerusalem artichokes can be found not only in these condiments, but in stews and other one-pot meals common to the region. With influence from Africa, France, England and the Caribbean, Lowcountry cuisine brings a unique melting pot of flavors and techniques to the Southern table.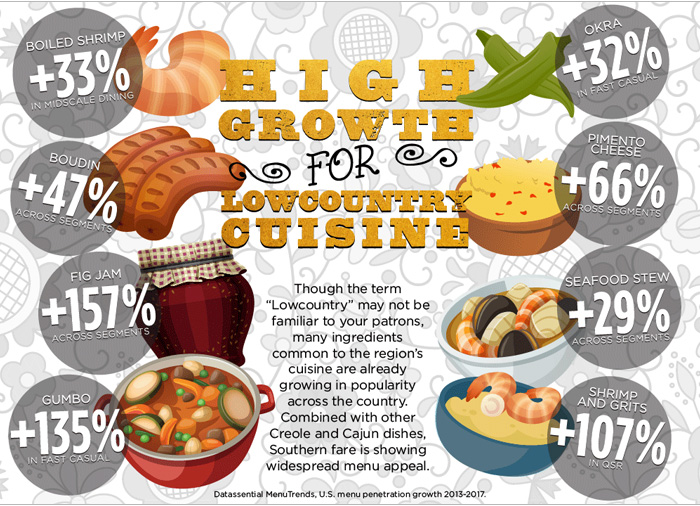 ---
Southern cuisine is diverse in style, ingredients and techniques—so consider a range of traditional dishes as inspiration for your newest "comfort food" menu items. Here are some ideas to get you started.
     RECIPES featuring Custom Culinary®  branded products
Pulled Pork and Bacon Waffles with Wild Mushroom Red Eye Gravy

Pork and waffles made with Custom Culinary® Gold Label Bacon Onion Marmalade, topped with a spin on "red eye" coffee gravy, featuring Custom Culinary® Gold Label Ham Base, Custom Culinary® PanRoast® Brown Gravy and Custom Culinary® Gold Label Wild Mushroom Tapenade. View Recipe

 

Breakfast Shrimp & Grits

Our take on the classic, smothered in Old Bay gravy made with Custom Culinary® PanRoast® Brown Gravy Mix and topped with a fried egg. View Recipe


Lowcountry Seafood Gumbo

A succulent combination of andouille sausage, okra, shrimp, crab and scallops slowly simmered in flavorful Custom Culinary® Gold Label Shrimp Base and classic seasonings. View Recipe

 

Smothered Pork Belly Tots

Crispy tots piled high with molasses and maple-glazed pork belly, pimento cheese and Kentucky bourbon gravy made with Custom Culinary® PanRoast® Brown Gravy Mix and Custom Culinary® Gold Label Kentucky-Style Bourbon Sauce. View Recipe

 

Southern Comfort Creamy Bourbon Sauce

A unique dessert sauce featuring the flavors of butter, brown sugar, vanilla and Southern Comfort in a base of Custom Culinary® Whisk & Serve® White Sauce. View Recipe

 
     MENU INSPIRATION featuring Custom Culinary®

 

proprietary products
Dirty Rice Arancini Balls

New Orleans meets Palermo in these "culinary fusion" appetizers— Custom Culinary® Creole-Style Seasoned Rice folded in with boudin sausage, blackened shrimp and chicken livers, triple panko-breaded and fried to a perfect golden brown, served with spicy Custom Culinary® Cajun Remoulade dipping sauce.

 

Lowcountry BLT

Thick-cut pork belly bacon, braised in Custom Culinary® Fiery Red Eye Gravy and seared, served between two slices of toasted harvest wheat bread spread with mayonnaise, topped with shredded iceberg lettuce, sliced tomato and a Custom Culinary® Chow Chow Relish.

 

Pork and Pimento Hushpuppies

Fluffy Custom Culinary® Pimento Cheese Spread hushpuppies studded with diced jalapeño and crispy country ham, fried to perfection and served with Custom Culinary® Gumbo Gravy for dipping.

 

Cajun Grilled Cheese

Pepper Jack cheese, crispy andouille sausage and spicy-sweet pepper jelly stuffed between two slices of Texas toast, basted with Custom Culinary® Cajun Remoulade before griddling.
---
 CUSTOM CULINARY® FEATURED PRODUCTS
From rich stew and soup bases to distinctive condiments, our products help you bring the mouthwatering flavors of the Lowcountry to the menu with ease.
BRANDED PRODUCTS

PROPRIETARY PRODUCTS

*Products are customized; please contact your Custom Culinary® representative for more information. 
| | | | |
| --- | --- | --- | --- |
| | If you haven't already, be sure to download our latest white paper: "6 Steps for Insight-Driven Menu Innovation". Download here. | | Learn how to set up a profitable made-to-order noodle bar in your operation with our "Raising the Bar" guide. Download the PDF here. |

---
AUTHENTIC VOICE

Read about the culinary history of jambalaya from Mike Speranza, CEC, and learn how to adapt this classic dish to your menu. View blog post >>

 

 
---
| | |
| --- | --- |
| | FlavorIQ® from Custom Culinary® is a revolutionary approach to product development. Our four-step process delivers fast, intelligent menu innovations to meet your needs. Click here to learn more about Custom Culinary® and FlavorIQ®. |