SPOTLIGHT

Say the phrase "carnival food" and what comes to mind? Food on a stick, deep-fried anything and shareable snacks that make a visual impact. From the weird to the wonderful, over-the-top eats are making their way from the fairgrounds to the dining room. Research from Datassential reveals that 53% of consumers are interested in seeing amusement park foods at restaurants! While items like the fried ice cream cheeseburgers served at the Florida State Fair might not be making an appearance on your menu anytime soon, they can serve as jumping-off points for creative and whimsical dishes. The up-and-coming "eatertainment" channel capitalizes on the trend, serving up comfort food that emphasizes the interactive and social aspects of the dining experience (i.e. sharable fishbowl beverages, loaded tater tots and skewers). Operators in more traditional restaurant channels can put their own spin on these types of dishes. Think haute cuisine twists on such classics as funnel cakes, soft pretzels, cotton candy and hot dogs. Premium ingredients, signature toppings and dipping sauces can elevate these dishes to new heights—literally and figuratively!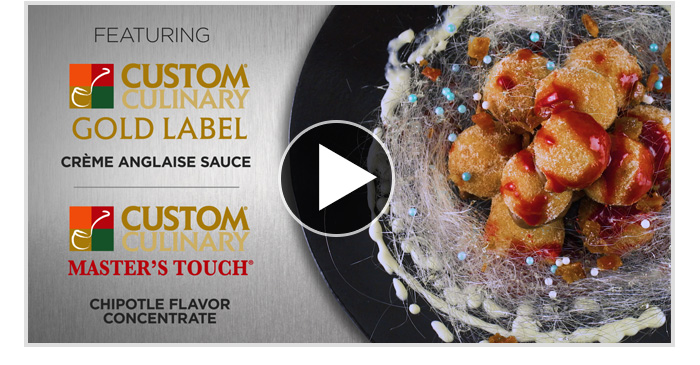 Bring the "wow" factor to dessert with our tower of Big Top Donut Holes, featuring Custom Culinary® Gold Label Crème Anglaise and Master's Touch® Chipotle Flavor Concentrate. WATCH THE VIDEO. 
---
Finger foods piled high with savory toppings capture the spirit of carnival or amusement park fare—and impress your guests. Check out our recipe ideas.
     RECIPES featuring Custom Culinary®  branded products
Food Truck Poutine
Prepare with your choice of french fries or tater tots, topped with cheddar cheese and bourbon gravy featuring Custom Culinary® PanRoast® Brown Gravy and Custom Culinary® Gold Label Kentucky-Style Bourbon Sauce.
View Recipe

A Hot Mess

A grilled hot dog wrapped inside a large tortilla, topped with cole slaw, french fries, Custom Culinary® Gold Label Jalapeño Relish and cheddar cheese, finished on the griddle.
View Recipe

A three-tiered sandwich between slices of sourdough bread: one layer of pepper jack and cheddar cheese, a second layer of Custom Culinary® Gold Label Bacon Onion Marmalade and provolone cheese and a third layer of Custom Culinary® Gold Label Pale Ale Cheese Sauce and blue cheese crumbles.
View Recipe

A soft, chewy pretzel bun loaded with a charbroiled bratwurst sausage, tangy sauerkraut, Custom Culinary® Gold Label Pale Ale Cheese Sauce, diced red onion and crispy bacon crumbles.
View Recipe

Sweet Treat Skewers

Indulgent bites of Caramelita chocolate blondies, mini red velvet cupcakes with cream cheese frosting, "death by chocolate" brownies and peanut butter crispy rice treats on a skewer, served with a side of Custom Culinary® Gold Label Crème Anglaise Sauce for dipping.
View Recipe

 
     MENU INSPIRATION featuring Custom Culinary®

 

proprietary products

Sweet Heat Loaded Potato Tornado
Skewered golden brown twisted "tornado" potatoes, loaded with habanero jack cheese, bacon, blue cheese and a fiery Custom Culinary® Agave Habanero Sauce glaze.

 

Smoky Waffle Melt
Thick slices of American cheese melted between two Custom Culinary® Smoked Cheddar Cheese Batter waffles, stuffed with bacon, tomato and a tangy pickled Custom Culinary® Peppadew Jam. 

 

Funnel Cake Triple Stack
Two char-grilled beef patties topped with Custom Culinary® Blackberry and Peach Chutney, smoky cheddar, bacon, lettuce and fried onions, stacked between three funnel cakes skewered with a pile of onion rings. 

 

Chicken-Fried Riblets
A rack's worth of baby-back ribs tossed in seasoned flour and fried to a golden brown, dressed in sweet and savory Custom Culinary® Hoisin Szechuan Pepper BBQ Sauce and finished with green onion. 
---
 CUSTOM CULINARY® FEATURED PRODUCTS
Indulgent dishes grounded in premium ingredients help bring the carnival cuisine trend to life on your menu. Our products deliver those bold flavors with operational ease. 
BRANDED PRODUCTS




PROPRIETARY PRODUCTS

Agave Habanero Sauce

Smoked Cheddar Cheese Waffle Batter

Blackberry and Peach Chutney

Hoisin Szechuan Pepper BBQ Sauce

Peppadew Jam 

*Products are customized; please contact your Custom Culinary® representative for more information. 
COME MEET US
Here are some of the upcoming industry events where you'll find our team. Please reach out to your Custom Culinary® representative if you'd like to set up a meeting at one of the following conferences:
Dot Foods Innovations 2018 / St. Louis, Missouri / May 30 – June 1 
Technomic Foodservice Planning Program / Chicago / June 18-20 
---
CUSTOM CULINARY® NEWS
Download your free copy of our latest white paper: "Driving Traffic with LTOs." 

 Download here.
Learn how to set up a profitable made-to-order noodle bar in your operation with our "Raising the Bar" guide. Download the PDF here.

---
AUTHENTIC VOICE

Chef David Russell tracks the carnival fare trend, from concessions (pickle dogs) to haute cuisine (pork belly cotton candy). Get inspired by some of his favorite dishes!  View blog post


 

 
---
| | |
| --- | --- |
| | FlavorIQ® from Custom Culinary® is a revolutionary approach to product development. Our four-step process delivers fast, intelligent menu innovations to meet your needs. Click here to learn more about Custom Culinary® and FlavorIQ®. |
From the hawker centers of Singapore to the roadside taquerias of Mexico—fresh and flavorful street food can be found all over the world. The desire for convenient, delicious fare is universal—in fact, the global fast food market is expected to reach almost $691 billion by the year 2022. Whether it's bao stuffed with pork belly and a drizzle of hoisin sauce, bean and cheese pupusas served with spicy cabbage slaw, or empanadas filled with ground beef, raisins and green olives—dishes inspired by street fare have the power to make an impact on your menu. And even if faithfully authentic recipes aren't in line with your customers' needs, you can still introduce the trend to patrons in an approachable way. Consider condiments, spreads and dipping sauces with globally inspired flavors, perfect for burgers, chicken tenders, wraps or any number of handheld items that guests already know and love. Think harissa aioli, Thai peanut sauce or apple-mustard spread. Premium touches like these will add flavor excitement to a familiar item, instantly!