SPOTLIGHT

From the hawker centers of Singapore to the roadside taquerias of Mexico—fresh and flavorful street food can be found all over the world. The desire for convenient, delicious fare is universal—in fact, the global fast food market is expected to reach almost $691 billion by the year 2022. Whether it's bao stuffed with pork belly and a drizzle of hoisin sauce, bean and cheese pupusas served with spicy cabbage slaw, or empanadas filled with ground beef, raisins and green olives—dishes inspired by street fare have the power to make an impact on your menu. And even if faithfully authentic recipes aren't in line with your customers' needs, you can still introduce the trend to patrons in an approachable way. Consider condiments, spreads and dipping sauces with globally inspired flavors, perfect for burgers, chicken tenders, wraps or any number of handheld items that guests already know and love. Think harissa aioli, Thai peanut sauce or apple-mustard spread. Premium touches like these will add flavor excitement to a familiar item, instantly!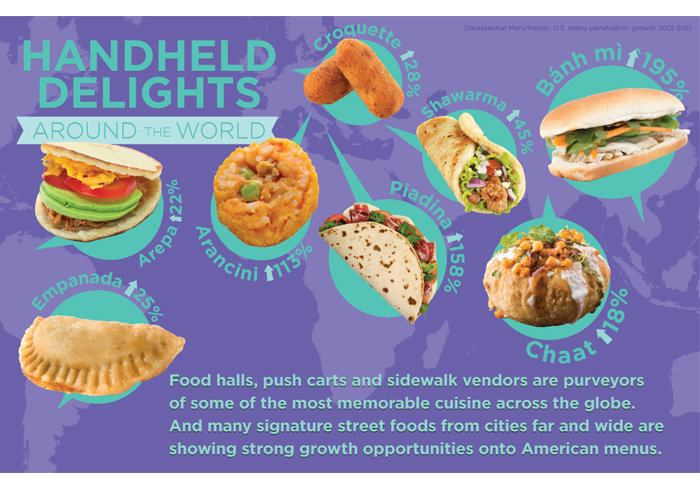 HANDHELD DELIGHTS AROUND THE WORLD
Food halls, push carts and sidewalk vendors are purveyors of some of the most memorable cuisine across the globe. And many signature street foods from cities far and wide are showing strong growth opportunities onto American menus. 

---

Fresh takes on sandwiches, tacos and finger foods are just some of the ways to infuse global flavor into your guests' favorite dishes. Try our new recipe ideas for inspiration! 
| | |
| --- | --- |
| | RECIPES featuring Custom Culinary®  branded products |
Vietnamese Bánh mì Chicken Sandwich
Dress up a flavorful, colorful bánh mì with a tangy signature sandwich spread—sriracha-lime mayo made with Custom Culinary® Master's Touch® Sriracha Lime Flavor Concentrate.
View Recipe

Mediterranean Style Sun-Dried Tomato Pesto Flavored Panini
This pressed flatbread sandwich features the flavors of Italy, including a relish made with Custom Culinary® Gold Label Sun-Dried Tomato Pesto Sauce, balsamic vinegar and basil.
View Recipe

Pollo Con Ancho Street Tacos
These flavorful tacos are filled with chicken thighs marinated in Custom Culinary® Master's Touch® Southwest Flavor Concentrate, Ancho Flavor Concentrate and Gold Label True Foundations™ Chicken Stock Concentrate; a cabbage and Gold Label Jalapeno Relish slaw; and Gold Label Latin-Style Citrus Chili Sauce-infused Greek yogurt.
View Recipe

Citrus-Chili Cuban-Style Sandwich
Amp up flavor in a classic Cuban by braising pork shoulder in Custom Culinary® Gold Label Latin-Style Citrus Chili Sauce and topping with a spread of mayonnaise and Gold Label Latin-Style Citrus Chili Sauce.
View Recipe

Thai Roasted Peanut Lettuce Wraps
Crisp lettuce cups are filled with sautéed chicken and vegetables, mixed with Custom Culinary® Gold Label Thai-Style Roasted Peanut Sauce and served with an orange-peanut dipping sauce.
View Recipe
MENU INSPIRATION featuring Custom Culinary®

 

proprietary products

Tahini Kibbeh
Minced spiced lamb with onion, mint, cilantro and garlic, stuffed in a bulgur-based dough and baked to a golden brown, served with Custom Culinary® Roasted Pepper Tahini Sauce.

Guanciale and Kale Arancini
Risotto folded with Custom Culinary® Kale and Walnut Pesto and formed around rendered guanciale, fried to a golden-brown and served with Custom Culinary® Gorgonzola Alfredo Sauce.

Apple-Mango Pani Puri
Hollowed puri fried until crisp, stuffed with a rich Custom Culinary® Apple and Mango Chutney and chana masala, served with Custom Culinary® Tamarind Ketchup for dipping.

Saffron Spanakopita
Twenty layers of phyllo dough brushed with roasted garlic butter, wrapped around a mixture of baby spinach, feta and Custom Culinary® Saffron Tomato Jam, then fried to a golden brown. 
CUSTOM CULINARY® FEATURED PRODUCTS



A world of flavor can be found in our portfolio of sauces, chutneys and flavor concentrates. Here's a sampling of our offerings, perfect for handheld menu items.

 
BRANDED PRODUCTS

      

PROPRIETARY PRODUCTS

*Products are customized; please contact your Custom Culinary® representative for more information. 
Download your free copy of our latest white paper: "Driving Traffic with LTOs." 

 Download here.
Learn how to set up a profitable made-to-order noodle bar in your operation with our "Raising the Bar" guide. Download the PDF here.

AUTHENTIC VOICE

Chef Michael Smith shares insights and memories from his world travels, dishing on his favorite street food from India and Chile. View blog post 
| | | |
| --- | --- | --- |
| | | FlavorIQ® from Custom Culinary® is a revolutionary approach to product development. Our four-step process delivers fast, intelligent menu innovations to meet your needs. Click here to learn more about Custom Culinary® and FlavorIQ®. |