Black Is The New Green - Custom Culinary® Launches NEW EZ- Grip Tub
Aug 16, 2013
Black Is The New Green – Custom Culinary® Launches NEW EZ-Grip Tub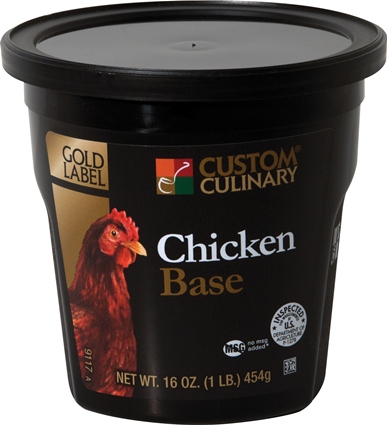 Custom Culinary®, an industry leader in food bases, sauces, gravies and soups, is proud to announce the launch of the new EZ-Grip Tub for their Gold Label, Master's Touch® and Chef's Own™ branded bases. With over 50% less plastic and a unique, industry-leading design, the EZ-Grip Tub will deliver the same great product operators know and trust in a responsible new way.
In addition to the positive environmental aspects, the new EZ-Grip tub features functional improvements that make it easier to use these best-in-class food bases:
Tapered and textured EZ-Grip sides reduce slippage and allow for a better grip
Tamper-evident film with easy-open pull tab eliminates the need to puncture and peel a cumbersome seal
Wider tub opening makes for easier product removal with a spoon or spatula
Custom Culinary® has also improved the corrugate shipper for their bases by including an easy-open perforated top flap that allows for quick access and removal of the tubs.
These improvements are part of Custom Culinary®'s Responsibility In Action promise, as being true to the food is all about smart, simple ways we can improve the world around us.
For information on Custom Culinary® products, visit customculinary.com or call 866.878.3827.
Custom Culinary, Inc. is focused on a single mission: creating the finest-quality, most authentic Culinary Flavor Systems. Their full line of bases, sauces, soups and gravies deliver exceptional flavor, aroma and consistency for any signature dish. Crafted by a team of industry-leading culinary experts, Custom Culinary® products assure incredible performance in a variety of formats.