Grand Opening: Custom Culinary® New Online Store
Apr 16, 2015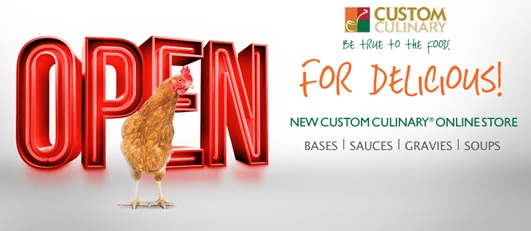 Here at Custom Culinary® we are focused on providing foodservice and food processing professionals with true, real, and authentic flavor solutions. As culinary expectations are evolving, we as a company are adapting to the growing changes to provide our consumers with quality products with convenient buying options. E-Commerce is a large and fast growing market. Since 2000 this market has grown over 250% and is now a $600 Billion dollar market in the US! 
In an effort to provide our customers with convenient buying solutions, we are excited to announce our brand new venture in e-commerce with the launch of our Custom Culinary® Online Store!!! A primary reason for opening our own online store is to provide our customers with more purchase options and easier access to our outstanding line of chef inspired products. The Custom Culinary® online store offers a great selection of our product portfolio and provides an economical way to try and sample many of our products. The online store also enables us to develop a closer and more direct relationship with our customers!
"The new Custom Culinary® Online Store provides our customers with easy access to our entire portfolio of products via a simple and intuitive navigation structure to quickly find and purchase any one of our great products. With the evolution of "Claimables" such as Gluten Free or Low Sodium, we are pleased to offer our consumers the option to look up products based on health considerations. In an evolving digital space, Custom Culinary® is excited for its new online venture and build a stronger relationship with our customers!" – Joe Beitzel, Director of Channel Marketing
At Custom Culinary®, staying true to the authenticity of flavor and maintaining the integrity of ingredients is a priority and we understand the need for evolving in the digital world. We are a culinary-centric organization with a mission to provide quality products while embracing the importance of global and regional influences. We believe that true, real, and authentic is the only way to deliver flavors that resonate with food lovers all over the world. And we are unwavering in our commitment to deliver incredible taste, texture and other sensory qualities in our bases, sauces, gravies, soups and flavoring systems. While our roots remain true to the culinary ideals and expectations of our founders, we aspire to helping you take your offerings to remarkable new heights.
And, above all, we believe in being true to the food.